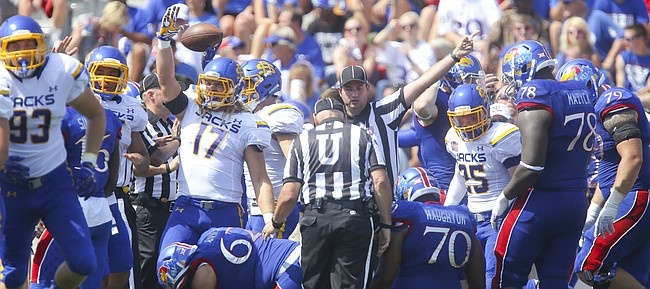 Make quick reads and if nothing presents itself, tuck it and run. A simpler offense, the thinking on the part of the new Kansas University football staff went, would result in Montell Cozart using his speed more often.
One game into the season, a 41-38 loss to South Dakota State, that's pretty much how it played out.
The second question I had of a coach during the offseason: But does he have the courage to run anywhere but out of bounds?
"Sometimes," the answer came, "all it takes is taking a real good hit early to get that out of your system."
I must confess I didn't fully understand that one, at least until watching Cozart take multiple shots as and after he fumbled the ball away and returned to the game a different player.
"Took a deep breather after that and said, 'Here we go, it's time to play ball,' " Cozart said.
Sidelined for a couple of plays, Cozart scrambled for a first down on third-and-10 on his first play back. When it made sense, he stepped out of bounds to avoid big hits. Unlike in past years, he didn't exhibit a hunger for the sidelines that at times seemingly matched a desire to reach the end zone.
In the first two of three unanswered touchdown drives, Cozart completed 13 of 15 passes for 109 yards and rushed for 31 yards on six attempts.
Offensive coordinator Rob Likens' calls for short passes near the sideline kept South Dakota State in disarray. At one point, Cozart completed eight consecutive passes, none for double-digit yardage. His final four completions during the 13-for-15 stretch went for an average of 15 yards.
"I feel like I grew a lot today, matured a lot," said Cozart, who mishandled the snap on the game's final play, preventing him from executing a simple spiking of the football.
Cozart will face faster defenses now armed with film on KU's offense, which will make it tougher to move the offense. Still, despite a rough start, a sloppy final play and a tendency to lock in on the intended target, Cozart showed enough in the opener to inspire confidence that he is a significantly better quarterback than in his freshman and sophomore seasons.
— Tom Keegan can be seen Sunday nights on WIBW-TV on The Drive.
More like this story on KUsports.com