Overtime has not been kind to Kansas University's soccer team through its first six games.
The Jayhawks suffered a 1-0 overtime setback against Oregon State on Sunday at Rock Chalk Park, marking their second straight loss in extra time.
"We played really, really well," KU coach Mark Francis said. "I felt like I said the same thing on Friday (after a 1-0 double-overtime loss to Santa Clara)."
The Beavers broke through in the 92nd minute, as Allison Pantuso capitalized by scoring off a rebound from a shot by Mariah Roggow.
"It was a tough ball in. It kind of dropped in at the top of the 6 (-yard box)," KU backup goalie Lauren Breshears said. She got a turn, but I stepped out and made the initial save. But, again, it's an unlucky bounce. It could've went to anyone, but it went to their feet. It's hard to defend."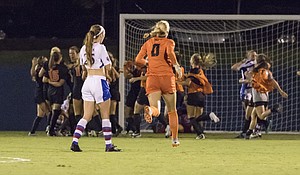 The backline of Morgan Williams, Kayla Morrison and Aurelie Gagnet made life relatively easy for Breshears after she subbed in at the break for starter Maddie Dobyns, who exited due to illness. Dobyns and Breshears made a save apiece as the Jayhawks' backline limited Oregon State to three shots on goal.
"I love them," Breshears said of Williams, Morrison and Gagnet. "They've been playing great. One-(versus)-one defending is great, and the communication back there has been really solid."
Kansas has limited its opponents to a goal or less in five straight games since dropping its season opener to Nebraska, 3-0, but the problem for the Jayhawks has been finding the back of the next offensively. Kansas has not had trouble creating scoring opportunities, but putting the ball between the pipes has been a different story.
KU was shut out for the fourth time, falling to 2-3-1 on the season, but outshot Oregon State, 11-9. Hanna Kallmaier fired a team-high three shots, two of which went just high over the crossbar in the 59th and 90th minutes. Liana Salazar, Kayla Morrison and Tayler Estrada each added two shots apiece.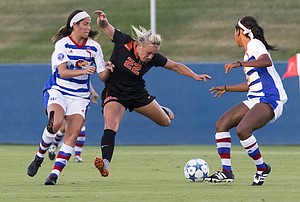 "I think our attacking players right now, every single one of them, not just our forwards but anybody who is a midfield player or a forward, we've got to get more out of them," Francis said. "Our quality in the attacking third has got to be better. We need more commitment from them in terms of runs and just getting on the end of stuff in the box. Up until that point, we're pretty damn good, but it's that last 25-30 yards to the goal where our quality right now has not been where it needs to be."
Going into the season, Sunday's matchup against Oregon State figured to be a favorable one for the Jayhawks, as the Beavers went winless with a record of 0-17-3 in 2014.
Francis knew that OSU coach Linus Rhode would get his team to bounce back in 2015, and the Beavers have turned the tables on their way to a 4-0-1 start.
"We knew they were difficult to break down, and that was really the toughest part today," Francis said.
The Jayhawks will hit the road again to take on Wyoming at 5:30 p.m. Friday in Laramie, Wyoming.
More like this story on KUsports.com