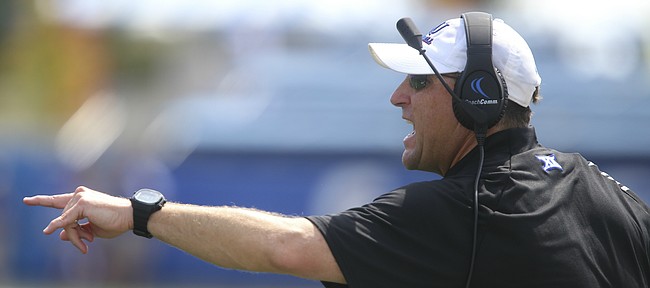 The often sloppy, never dull season-opener revealed enough to draw three conclusions about David Beaty's first Kansas University football team as head coach.
First, it might not win a game.
Second, it won't ever quit trying, no matter how discouraging the scoreboard.
Third, Beaty isn't going to peer out from under his baseball cap looking for someone to blame.
Even on the final play, Montell Cozart's fumbled snap that was compounded by Cozart spiking the ball after he already was down, Beaty took the blame, saying he should have drilled the team more on the proper way to respond to a fumbled snap to have a shot at another play.
"That's a situation, you don't think about it very much. But I promise you I'll be thinking about it moving forward," Beaty said. "I've got to get better for those guys than I was today."
Photo Gallery
Kansas football v South Dakota State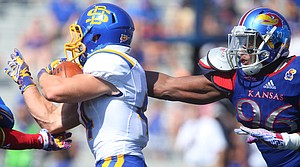 Images from Saturday's game between the Jayhawks and Jackrabbits at Memorial Stadium.
Beaty was quick to tell Cozart that without him the team never would have been in the game at the end. Players respond well to that sort of treatment.
"A lot of things that we talk about all the time that we did not do, we did not take care of," Beaty said. "Being the smartest team in the country, we weren't that today. We've got to get better at that and that's me and my coaches' job."
Such as?
"I think the big thing is that we've talked about the things that we wanted to focus on to get better faster was turnover margin, which we did not win today," Beaty said of losing the turnover margin battle, 2-0. "We gave the ball away twice and it turned into, I believe, 14 points. We did not play a clean game. And we've talked all week about making sure that we were playing penalty-free, and we had some penalties that cost us throughout the night that made a difference in the end of the game. We've got to keep learning from that."
Podcast episode
After a fumbled snap kept Kansas football from running a play in the final seconds of a 41-38 loss to South Dakota State Sept. 5, 2015, at Memorial Stadium, new KU coach David Beaty addresses the issues on that play and other parts of the game with the media.
Kansas was penalized seven times for 75 yards, South Dakota State three times for 25 yards.
Turnovers and penalties indicate how buttoned-up a football team is and for starters, Beaty's team gets a poor grade in that regard.
KU's tackling was sloppy overall and downright abysmal early in the game.
On the plus side, and also a reflection of coaching, KU's players never wore the body language of losers. Their energy and resolve stayed strong. The quitters that were in the program already quit, leaving KU with frightening numbers, but also with a strong will.
The players also looked well conditioned as they rallied from a 31-7 deficit 17: 22 into the game to come within three points twice, including by a 31-28 score with 9:12 left in the third quarter.
KU's preferred fast tempo appeared to dent the Jacks' stamina and from Beaty's vantage point the tempo wasn't nearly fast enough on a consistent basis.
Even when the play looked sloppy and the scoreboard screamed obscenities at the Jayhawks, the head coach's body language signaled confidence to the players.
"I slept great," Beaty said of his Friday night. "I hate to say it, and I don't hate to say it, I'm not a nervous guy by nature. I think, I mean, I'm not into that."
After the loss, Beaty looked disappointed, but didn't have the air of someone nervous about how his debut would be perceived. He has too much rebuilding ahead of him to waste time and energy worrying about perceptions.
"I'm a big believer in you get them prepared and what you prepared them for, they will do well," he said. "What you haven't done well at preparing them for, that's your fault. You didn't get them prepared well enough. Today, unfortunately, I didn't get them prepared well enough to win the game."
He and his staff prepared the players' confidence and spirit well enough to close the gap 21 points in a stretch of 15 minutes and seven seconds of game clock.
It wasn't enough to prevent South Dakota State from defeating a Football Bowl Subdivision opponent for the first time in eight tries, but it was enough to suggest that Beaty's staff has the fire to make players believe that long odds don't mean it's time to douse the fire and fold the tent.
The unsightly final play understandably made spectators head for the parking lot in a foul mood and denied us all the dramatic moment of watching a kicker in a make-or-break moment.
Matthew Wyman, who two seasons ago defeated Louisiana Tech on a 52-yard field goal, would have had a breeze at his back in attempting a 50-yarder to force overtime.
What are the chances he would have made it?
"I would say at least 50-50," Wyman said.
Much better than the one-in-a-thousand chance of failing to spike the football.
At the end, Kansas was one disappointed football team, but not a discouraged one.
— See what people were saying about KU football during our live coverage.
---
More news and notes from KU football vs. South Dakota State
---
More like this story on KUsports.com