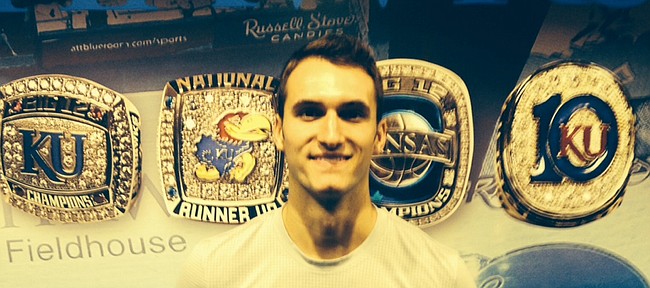 Clay Young, who has been a Kansas University basketball fan "since a really young age, as long as I can remember," now gets to play hoops for his beloved Jayhawks.
The 6-foot-5, 205-pound, 2013 Lansing High graduate — he started four years for the Lions and played a year at KCK Community College before tearing his ACL in Game Two last season — on Wednesday officially joined KU's program as a non-scholarship walk-on. The sports management major is a junior academically but has three years of eligibility remaining, starting this season.
"I was a huge fan of (former KU forward) Wayne Simien growing up. I would go to the Leavenworth basketball camps. He would be there helping out. I thought that was the coolest thing," said Young.
"I have actual memory of watching the national championship game in 2003 (KU loss to Syracuse). I would have been 9 years old. I grew up watching Aaron Miles, Kirk Hinrich, Nick Collison. I've been going to games since I was that young, too. It's an amazing thing they considered me and let me be part of it," added Young, who averaged 9.0 points, 6.0 rebounds and 1.5 assists his senior season where he was named first-team All-Kaw Valley League in leading Lansing to a Class 5A runner-up finish.
Young — he has played all five positions in his basketball career — is ticketed to work with the bigs at KU. He averaged 10.0 points and 5.6 rebounds at KCKCC in 2013-14 for former Oklahoma player, Kelly Newton. Last season's ACL injury (of which he's completely healed), oddly enough, has played a part in his becoming a Jayhawk.
"If I didn't tear my ACL ... I was already getting some Div. II looks before the season even started," Young said. "I was going to have a pretty big season coming back the most experienced player in the whole conference. I played more minutes my freshman year than anybody."
Rehab gave him a long time to think about his future and he came to the conclusion Div. II basketball wasn't the way to go.
"I talked with my coach, Kelly Newton, about what I wanted to do. I said I was thinking about going to KU, why not give it a shot and try to be a walk-on there."
Newton, who knew KU's coaches, spoke initially on his behalf.
"We found out about Clay through his junior college coach, Kelly Newton," KU coach Bill Self said. "Norm (Roberts, KU assistant) and I recruited Kelly hard when we were at Tulsa and he was at Neosho (County) Community College. We stayed in touch and he told us all along he had a young man that wanted to go to KU and would do anything to be a part of the program. We brought Clay over in the spring and we liked him. He's a nice young man who does well academically and is fitting in very well."
Young knows what's in store.
"I'm going to be a big support guy. I'm going to play a lot of defense in practice," Young said. "Basically my role is going to be to push the guys that are going to be out there, try to make them the best they can be, make the team better, be a good teammate.
"These guys are really good," added Young, who has participated in some pick-up games already. "I'm nowhere near the level of talent or athletic ability those guys are. That's a dream to be able to play (with them in actual games). At the same time, just being part of this, being part of the team is all I could ask for."
Young believes his first season at KU could be a big one.
"I've come to KU games the past couple years. I've seen these guys play. You really don't know how big and skilled they are until you are on the court playing with them," Young said. "I have all the respect in the world for all these guys. This team could be really special. There's a lot of talent on this team. However far we go will be up to the seniors, juniors and leaders on this team since I think we have the talent to go the whole way this year and I think they all believe it, too."
The past revisited: New Jayhawk Young recalled his career at Lansing High.
"I started my freshman through senior year. I played a lot. I got a lot better in my time there. We played against a lot of good teams. Shawnee Mission South (which has been a 6A school but dropped down to 5A during Young's senior year) had a really good team. They beat us in the finals. We were easily the best team in the league my sophomore through senior year. We lost only two or three games in the league those three years. It was a good experience.
"I played wherever they needed me for the most part. There were times I played point guard my junior year. My senior year we had a 6-7 kid who transferred right before the year started. I was the tallest guy on the team so I had to play the 5 which is kind of out of position for me. For the most part I played 4."
At juco ... "we had a lot of guys quit. Somehow I ended up being the tallest guy on the floor. We had five guards on the floor the whole time."
Recruiting: Jeremiah Tilmon, a 6-10 junior from East St. Louis (Illinois) High, will attend the Oct. 9 Late Night in the Phog, according to Jayhawkslant.com.
More like this story on KUsports.com