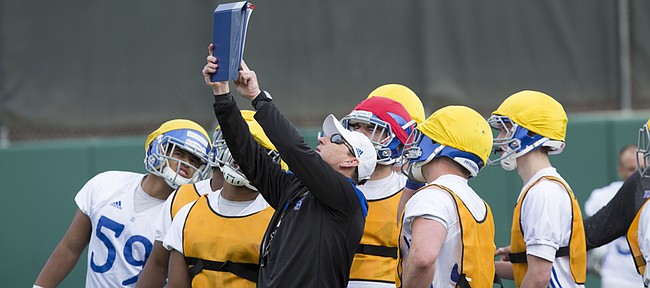 Kansas trails by two points with two seconds remaining and has the ball on South Dakota State's 18-yard line. A decision will have to be made whether to send Matthew Wyman, the kicker with the stronger foot, or Nick Bartolotta, the more accurate kicker on short distances, to attempt the 35-yard field goal.
One man must make that decision and that man, first-year head coach David Beaty, hasn't had the buck stopping at his desk since 10 years ago, when he was head coach at MacArthur High in Irving, Texas.
If the kick goes through the uprights, Beaty will praise the kicker he chose. If it fails, he'll be asked to defend the decision of why he went with this guy and not the other guy.
Ten years ago today, Beaty gave his final Week 1 pre-game speech as a high school head coach.
Go for it or punt? Light them up at halftime or encourage them? Keep the hammer down with a lead or start eating clock?
Typically, a football team practices three trick plays each week. Which one will he decide to use and when?
If at times a symphony of competing voices creates chaos, it's up to Beaty to scream "shut up!" to the ones who need to shut up, restoring order quickly.
Only the head coach can make final decisions and he'll have probabilities on cards held by somebody else on which to rely, but at some point, gut instinct takes over.
"We've got guys that are assigned to help us with some time-management stuff from up in the box," Beaty said. "We obviously have been preparing by the way that we've scrimmaged and putting us in certain situations so we really not only help our guys understand it, but help me and my staff how we want to manage time situations. But I won't be alone. There will be guys up in the box will that manage it with us that will help us. We've got a really good staff that will help us."
As for whether to go for it on fourth down, Beaty said he will communicate with the offensive coordinator before he calls a third-down play.
"I'll typically let Rob know whether he has two downs or one," Beaty said. "The term for me, very simply is, 'You've got two downs.' If he's got one, you don't have to say anything and he knows he's got third down (to get the first down).' He can gauge his play-calling based on that."
Beaty didn't reveal where the gray area starts and ends when it comes time to decide which field-goal kicker to send onto the field.
"Wyman is kind of our long-ball specialist," Beaty said. "He's got a strong, strong leg. He can hit it. The good thing about him is we're in field-goal range when we get inside 40 (a 57-yard kick), as far as at least being able to reach it with him. He's got a really strong leg. The other kid is very accurate."
Podcast episode
Headed into his debut as Kansas football coach on Saturday versus South Dakota State, David Beaty meets with the media on Aug. 1, 2015, to talk about the Jayhawks' opener. Beaty explains why he and his staff decided not to release a depth chart, and describes the challenges ahead for ...
Bartolotta, a transfer from College of DuPage, hasn't kicked in front of a crowd as big as the one that will watch Saturday's game. Wyman hit a game-winning kick in Memorial Stadium vs. Louisiana Tech two years ago. He's been there, done that. Beaty will have to decide to take that into account, as well as the direction of the wind, and if the numbers are neither black nor white, but a shade of gray, only Beaty's gut can tell him which way to go.
Premonition: The game will come down to just such a decision and if the kick goes through the uprights, Beaty wins his debut. If it doesn't, a post-game interrogation that will make French Fry lamps feel like the North Pole by comparison will await KU's third head coach in six seasons, fourth if you include Bowen, interim head coach for last season's final eight games.
It's a tough job. That's why Beaty gets paid $800,000 a year, almost one-third what Charlie Weis has coming to him in each of the next two seasons to not make any more decisions on behalf of the KU football program.
More like this story on KUsports.com