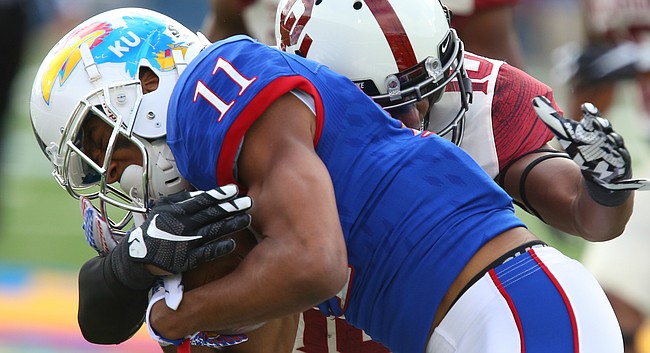 In what's becoming a familiar pattern for Kansas football this season, the opponent often scored at will early and rested its stars late. On Halloween afternoon at Memorial Stadium, No. 14 Oklahoma became the latest Big 12 foe to manhandle the Jayhawks in a 62-7 rout.
OU quarterback Baker Mayfield and wide receiver Sterling Shepard contributed most to ruining winless KU's homecoming. A 5-foot-10 senior, Shepard caught 11 passes for 183 yards and a touchdown from Mayfield, a junior, who torched the Kansas secondary for 383 yards and four scores before taking a seat on the bench early in the third quarter.
Sophomore running back Samaje Perine didn't break any FBS records against the Jayhawks (0-8 overall, 0-5 Big 12) like he did a year ago, but the monstrous back still picked up 90 yards and a pair of touchdowns. Perine's second TD came in the final minute of the second quarter, allowing OU (7-1, 4-1) to enter the break with a 38-7 lead.
By the end of the fourth quarter, OU had racked up 710 yards and 35 first downs, compared to KU's 216 yards and 15 first downs.
Photo Gallery
Kansas football v. Oklahoma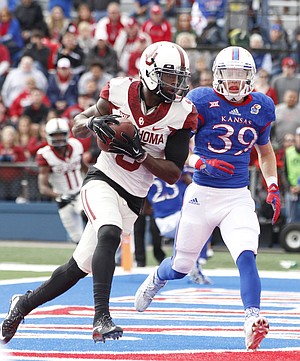 View a gallery of images from Saturday's game between the Jayhawks and Sooners at Memorial Stadium in Lawrence.
Kansas true freshman quarterback Ryan Willis, sacked five times against another powerful Big 12 defense, completed 20 of his 34 passes for 181 yards, without an interception.
Podcast episode
First-year Kansas football coach David Beaty addresses all that went wrong for the winless Jayhawks in a 66-7 homecoming loss to No. 14 Oklahoma.
KU scored its only play of the game in the opening minute of the second quarter, when Willis connected with red-shirt freshman Tyler Patrick for 17 yards.
Patrick finished as KU's leading receiver, with 46 yards on five catches.
Yet again, KU's running game never got going. Senior Taylor Cox finished with 30 yards on 12 carries to lead the team.
KU hits the road next week, with a trip to Texas.
— See what people were saying about the game during KUsports.com's live coverage.
HOW THEY SCORED
First Quarter
9:48 — Joe Mixon 68 pass from Baker Mayfield. Austin Seibert kick. After the Sooners' first drive stalled when a field goal attempt hit the right crossbar, OU did not mess around on Drive No. 2, as Mayfield kept it for 15 yards on first down and then hit a wide open Mixon over the middle and behind the defense on the second play for the TD. (OU 7, KU 0).
5:32 — Duron Neal 11 pass from Mayfield. Seibert kick. OU picked up its third play of 35 yards or more early in the game, when tailback Samaje Perine rumbled 36 yards to set up the TD. Mayfield also hit tight end Mark Andrews with a 14-yard gain on third-and-nine to keep the seven-play, 61-yard drive alive. OU's second score took 2:40. (OU 14, KU 0).
1:51 — Sterling Shepard 4 pass from Mayfield. Seibert kick. After the OU defense forced another Kansas three-and-out, Mayfield tossed his third touchdown of the day to a third different wide receiver. The toss to the back of the end zone capped a seven-play, 70-yard drive that took 2:46. (OU 21, KU 0).
Second Quarter
14:54 — Tyler Patrick 17 pass from Ryan Willis. Nick Bartolotta kick. After another stalled KU drive was kept alive by a muffed punt by OU, Willis hit Patrick on the first play of the second quarter on a pass that was nearly intercepted but sailed over the head of Dakota Austin, who jumped the route but saw it go for a TD behind him. KU's first coring drive spanned six plays, 29 yards and 1:12. (OU 21, KU 7).
9:00 — Samaje Perine 3 run. Seibert kick. OU's longest scoring drive of the day featured a fourth-down conversion from Mayfield to Dede Westbrook and the Sooners converting a second-and-32 situation for a first down. The drive covered 75 yards in 14 plays and 5:54. (OU 28, KU 7).
2:34 — Austin Seibert 46 field goal. He missed his first field goal try of the day by banging it off the right crossbar, but the OU freshman left no doubt about this one, drilling it right down the middle with plenty of distance to spare. The kick capped an eight-play, 68-yard drive that took 3:01. (OU 31, KU 7).
0:22 — Perine 1 run. Seibert kick. Oklahoma's final scoring drive of the first half took just 54 seconds and was capped by an easy touchdown run by Perine. Mayfield hit Shepard for two passes to set up the score and a 15-yard face-mask by Bazie Bates IV helped OU move quickly into KU territory. (OU 38, KU 7).
Third Quarter
9:46 — Sam Grant 1 pass from Mayfield. Seibert kick. The Oklahoma offensive train kept rolling on the Sooners' first possession of the second half, with an eight-play, 67-yard scoring drive that took 2:58. Joe Mixon's big catch and run took the ball to the one inch line and, two plays later, Mayfield fired his fourth TD pass of the day. (OU 45, KU 7).
8:19 — Trevor Knight 1 run. Seibert kick. A De'Andre Mann fumble set up a four-play, 19-yard OU scoring drive orchestrated by back-up quarterback Trevor Knight, who punched it in on a QB sneak to add to OU's lead. (OU 52, KU 7).
2:03 — Nick Hodgson 32 field goal. Oklahoma added to its lead with a short field goal from its second-string place kicker, who capped a nine-play, 37-yard drive that spanned 3:00 by drilling the kick. (OU 55, KU 7).
Fourth Quarter
5:32 — Connor Knight 17 pass from Trevor Knight. Hodgson kick. With second- and third-stringers taking most of the snaps, the Sooners added an excuse-me touchdown late on a nice throw and catch by the Knight duo. The drive covered 49 yards in seven plays and 3:19. (OU 62, KU 7).
---
More news and notes from Kansas vs. Oklahoma
---
More like this story on KUsports.com