A tie was not what Kansas University soccer coach Mark Francis had in mind heading into the Jayhawks' Senior Night.
The Jayhawks, after playing their school-record seventh overtime match of the season, had to settle for a 1-all draw with TCU on Friday at Rock Chalk Park.
"Disappointing," Francis said. "I think this was a game that we clearly needed to win."
Kansas (8-8-2) took the lead in the 31st minute thanks to two of the three seniors who were honored in their last home game. Ashley Williams set up Liana Salazar for her fifth goal of the season.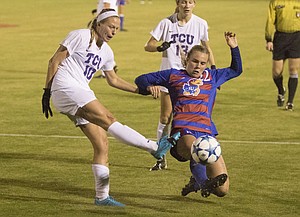 Williams served a pass in from the right side, and Salazar sent it home with a header past TCU keeper Courtney Hofer.
"Great ball from Ash," Francis said. "Li did a great job finishing it. That was nice from them, especially on Senior Day, for sure."
The offensive spark from the senior duo was sorely needed. Salazar's goal snapped a scoreless streak of 301 minutes — dating to Williams' game-winning goal over Oklahoma on Oct. 11.
The header was Salazar's 26th goal of her career, which ties her for second all-time in school history with Caroline Kastor and Rachel Gilfillan. The achievement meant even more to Salazar since her mother made the trip from her native Colombia to watch her play for the second time in her career.
"It feels amazing to be a part of this great program and have my name on top," Salazar said.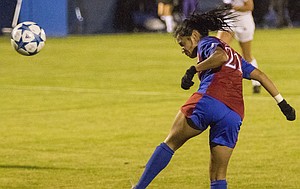 The 1-0 lead stood for the Jayhawks until the Horned Frogs broke through to tie it in the 56th minute. TCU's Karitas Tomasdottir sent a through ball up the middle to set up McKenzie Oliver for the equalizer. KU goalie Maddie Dobyns was forced to come out of the goal to contest Oliver, but TCU's forward lobbed the ball in for her third goal of the season.
Part of what made Friday's draw frustrating for Francis was that the Jayhawks had their share of chances to pick up a win late.
Hofer made back-to-back saves in the final minute of regulation on a long shot by freshman Parker Roberts and rebound opportunity from Williams.
"The keeper made a couple of great saves," Francis said. "You've got to give her credit. I thought twice it was over."
The draw clinched the No. 6 seed for the Jayhawks in the Big 12 tournament, which begins Wednesday at Swope Soccer Village in Kansas City, Missouri. The Jayhawks will play Texas at 8 p.m. in the last quarterfinal matchup of the day.
The Jayhawks fell to the Longhorns, 2-1, in their regular-season contest Oct. 2 at Rock Chalk Park.
"We feel like that is a really good matchup for us," Francis said. "We thought we were unfortunate in that game and would love to have another chance at them."
More like this story on KUsports.com