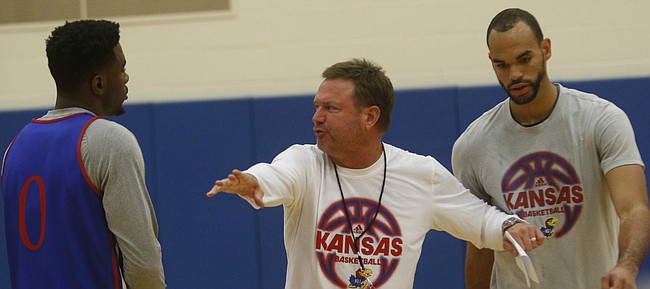 Kansas University basketball fans who also support the Kansas City Royals breathed a big sigh of relief at 10 a.m. Friday.
That's when KU's athletic department announced that Wednesday's exhibition opener against Pittsburg State would be moved to Thursday if the World Series returns to KC for Game Six.
The Jayhawks are currently scheduled to face Pitt State at 7 p.m. Wednesday in Allen Fieldhouse. That day and time would conflict with Game Seven of the World Series if the Series goes that far. (Games Six and Seven of the Series are scheduled for Tuesday and Wednesday nights at Kauffman Stadium).
If the Royals end the Series in New York, the exhibition will remain on Wednesday. If the Series returns to Kansas City, KU and Pittsburg State will play at 7 p.m. Thursday.
KU athletic director Sheahon Zenger said KU will move the game even if the Series ends Tuesday night in KC.
"We want to be fair to Pittsburg State, and we want to keep any confusion to a minimum," Zenger said. "If we move the game once, we won't move it back if the Series ends in six games. The sure thing is that if the Series returns to Kansas City, we will move the exhibition game to Thursday night."
Noted KU coach Bill Self: "We love the roll the Royals are on, and we know that interest in this Series is sky-high in this area. Many of our Jayhawk fans will want to attend or watch Game Seven next Wednesday, if it goes that far, and we don't want them to have to make a choice. We hope the Royals wrap it up in New York, but if they don't, we'll be ready to move our game."
CBE Classic: KU will join Georgia, George Washington and UAB at Sprint Center for the 2016 CBE Classic, KU sources confirmed Friday after CBSsports.com's Jon Rothstein revealed the field. No specific match-ups have been determined yet for the Kansas City, Missouri, event, slated for the Monday and Tuesday before Thanksgiving next year.
As part of the CBE Classic, the Jayhawks also will have two home games against other opponents — none of the other headliners — prior to the games in Kansas City. UAB is currently coached by former KU guard Jerod Haase, who played for the Jayhawks from 1994 to 1997.
Kansas won the CBE Classic in 2012. This year's CBE field features Missouri, Kansas State, North Carolina and Northwestern.
The Jayhawks in 2016-17 will also play Indiana on Nov. 11 at Pearl Harbor in Honolulu and play Duke in the Champions Classic on Nov. 15 in New York. KU also will play a pre-Christmas game against UNLV in Las Vegas.
Fraschilla in town: ESPN's Fran Fraschilla was guest speaker at Self's coaches clinic on Friday in KU's practice facility connected to Allen Fieldhouse. About 150 high school, small-college and junior-college coaches attended the clinic.
"One hundred fifty isn't a great number but perfect for us," Self said. "We wanted to hold it in our practice gym. Acoustics are better (than fieldhouse). It's good to have Fran and all the coaches here."
Of KU's 21⁄2-hour practice in front of the coaches, Self said: "Not a great practice. Unfortunately, we've had too much of that lately. I don't know if they're bored or what."
The Jayhawks have been practicing since Oct. 2, with just one public event so far — the Oct. 9 Late Night in the Phog.
Recruiting: Jarrett Allen, a 6-9 senior forward from St. Stephens Episcopal in Austin, Texas, who is ranked No. 20 in the recruiting Class of 2016 by Rivals.com, is visiting Houston this weekend then will visit Kentucky on Nov. 6-8. Allen has visited KU and Notre Dame and also is considering Texas, North Carolina, Indiana and Kansas State. ... KU has at least two scholarships to give following the commitment of Mitch Lightfoot. No. 34-ranked Schnider Herard, a 6-10 senior forward from Prestonwood Christian Academy in Plano, Texas, will announce his college choice on Wednesday. KU's interest in Herard apparently lessened in recent weeks, and he is said to be favoring Mississippi State over Texas Tech and Purdue.
Swanigan cleared: Another top player was cleared for participation by the NCAA on Friday. Purdue freshman forward Caleb Swanigan is eligible to play in 2015-16, Purdue coach Matt Painter told ESPN. KU's Cheick Diallo is still awaiting word on his academic eligibility.