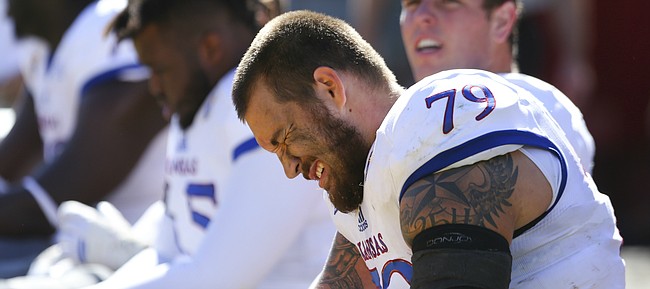 A week ago, in a 58-10 loss at Oklahoma State, the Big 12's top-ranked pass rush ate up the Kansas University offense for a pair of sacks and eight tackles for loss.
So what does KU get for surviving that onslaught? A date with the conference's second most ferocious pass rush Saturday at Memorial Stadium, where the winless Jayhawks will play host to 14th-ranked Oklahoma at 2:30 p.m.
OU's 25 sacks in seven games this season place them two behind the Cowboys, who lead the Big 12 and rank third in the nation. Both teams are averaging just under four sacks per game, and the Sooners, who hit Texas Tech for four sacks in a 63-27 victory last week, could have the luxury of facing a KU team playing without its top tackle.
KU coach David Beaty said earlier this week that left tackle Jordan Shelley-Smith was dealing with a concussion that knocked him out of last week's loss. Even though he was in uniform at Wednesday's practice, it sounds like a longshot that Shelley-Smith will be able to play.
That leaves the Jayhawks facing the real possibility of starting two freshmen (Larry Hughes and Clyde McCaulley) at the tackle positions against an Oklahoma front that features three seniors and three juniors on its two-deep depth chart at the four defensive line positions.
Add to that the fact that true freshman quarterback Ryan Willis will be making just the fourth college start of his career, and it's fair to say the Sooners (6-1 overall, 3-1 Big 12) will have a significant experience advantage when Kansas drops back to pass.
"I know when you've got a young quarterback, I'm going to come after him and see if I can get some hits on him," Beaty admitted. "So they're going to do that."
Missed tackles an issue
Beaty said earlier this week that the Kansas defense missed 23 tackles and gave up 212 yards to the Cowboys as a result.
That number was a season-high, and, although Beaty and defensive coordinator Clint Bowen both credited the Oklahoma State offense for some of the missed tackles but said breakdowns by the Jayhawks led to a lot of them.
"On 53 percent of our chances, we made the tackle. That means we missed half of the tackles in that game," Bowen said. "I don't want to take anything away from Oklahoma State, but (OSU running back Chris) Carson and those guys aren't that good. Nobody's that good."
While a lack of fundamentals and proper technique was a big reason for the breakdown, Bowen said one other element accounted for most of the problem.
"A lot of times it's a slow reaction that puts you in a bigger space to make a harder tackle. A lot of it is that; we're just not getting the point of attack quick enough and we're putting ourselves in position to have to make extremely tough tackles.... Our read-and-react phase, we're not there yet."
Wyman improving
For the second week in a row, junior Matthew Wyman handled the Jayhawks' punting. And for the second week in a row, Wyman's average climbed above 40 yards.
In to replace the struggling Eric Kahn midway through the Texas Tech game, Wyman finished that day with three punts for a 42.3-yard average. Last week, he hit eight punts for an average of 43.1 yards.
"I'm very impressed," Beaty said of his new punter. "He doesn't have a whole lot of technique, but, man, he can hit it. I said before, he's got a powerful, powerful leg. He's got some talent that you don't see in a lot of kids. He's really doing a lot of that off just throwing that ball out there and kicking it. He's starting to work on technique to get better.
Injury update
In addition to the likely absence of their left tackle, the Jayhawks will be without safety Greg Allen (groin) and linebacker Schyler Miles (knee) this week against the Sooners.
Allen is expected to miss most, if not all, of the rest of the season, and Miles, who did not play at OSU, is dealing with nagging knee issues that have plagued him throughout his career.
Junior quarterback Montell Cozart also remains out, though he was throwing lightly on the sideline at Wednesday's practice.
More like this story on KUsports.com