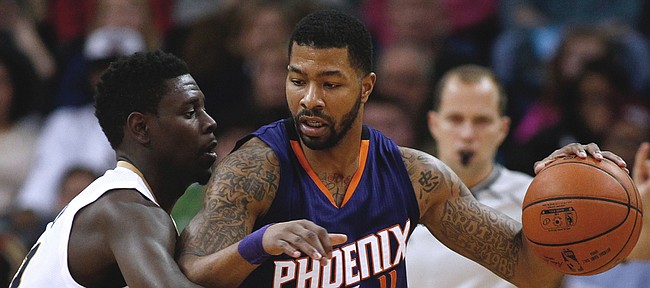 An all-time school-high 19 former Kansas University basketball players — including rookies Kelly Oubre, Cliff Alexander and Sasha Kaun — are on Opening Day rosters for the 2015-16 NBA season.
KU's 19 players are two more than last year's previous high of 17 Jayhawks. Kentucky, by the way, opens the 2015-16 season with 21 players on NBA rosters.
Oubre was selected by Atlanta — for the Washington Wizards — with the No. 15 pick in the 2015 NBA Draft. He stole headlines before and after the draft with some brash comments about his own ability.
"I just go hard. I try to go as hard as I can every possession. That's the way I'm going to succeed in this league — going hard to make a name for myself — so I'm just trying to play with a chip on my shoulder and make sure I'm a good teammate, first and foremost," Oubre told the Washington Post.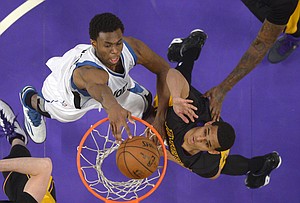 At 19, he's three years younger than anybody else on the Wizards' roster. He will make $1,920,240 this season and $2,006,640 in 2016-17. The team has an option for $2,093,040 his third year in the league.
"I'm a rookie and the youngest guy on the team, so there's a lot of older guys and veterans, guys that have been around," Oubre told the Post. "They kind of embraced me as their younger brother so I kind of take that role and I just try to learn from them as much as possible."
Alexander, according to Hoopshype.com, will make $525,093 this season as an undrafted free agent with the Portland Trail Blazers. There's a team option for $874,636 next season. Alexander made the active roster despite a nasty knee bruise that prevented him from playing in any preseason games.
"He should have been drafted in the first round, if you ask me," veteran center Chris Kaman, who is entering his 13th NBA season, told the Oregonian. "He is an animal. Getting him as an undrafted player is unbelievable."
Kaun, 30, played the last seven seasons for CSKA in Moscow before signing with LeBron James' Cleveland Cavaliers last summer. He's to make $1,276,000 this season and $1,333,420 in 2016-17.
Of playing with James, Kaun told Cleveland.com, "he is one of those players who sees lots of things and makes quick decisions, quick passes."
Veterans Paul Pierce and Cole Aldrich are with new teams this season — in fact are teammates on the L.A. Clippers. Pierce, who is entering his 18th NBA campaign, has a three-year deal worth $3,376,000 in year one, then $3,527,920 and $3,679,840. Aldrich will make $1,100,602 this year and has a player option of $1,227,286 for 2016-17.
Jeff Withey has moved from the New Orleans Pelicans to the Utah Jazz where he is on a one-year deal worth $947,276. Thomas Robinson, who spent the last two years with Portland, now is with the Brooklyn Nets where he'll earn $981,348 this season and has a player option for $1,050,961 next year.
Marcus Morris has been separated from his brother, being traded by Phoenix to Detroit. Marcus makes in the vicinity of $5 million a year for the next four seasons. Markieff Morris remains in Phoenix where he makes between $8 and $8.5 million a year the next four campaigns.
Several Jayhawks remain on the team they played for a year ago.
Drew Gooden of Washington, who has been in the league 14 years, will make $3,300,000 this year with a team option of $3,547,500 in 2016-17. Nick Collison, a 13-year veteran, has two years left on a deal with Oklahoma City that will pay him $3,750,000 per annum. Another 13-year veteran, Kirk Hinrich of the Chicago Bulls, is on a one-year deal worth $2,870,000.
Mario Chalmers, an eight-year veteran, will make $4,300,000 in the final year of a deal with the Miami Heat. Darrell Arthur has a new two-year deal with Denver that pays him $2,814,000 this season with a player option of $2,940,630 for 16-17. Brandon Rush is in the final year of a deal with Golden State that will pay him $1,270,964. Rush became the 11th Jayhawk to win an NBA title last June.
Third-year pro Ben McLemore of Sacramento has three years left on a deal that pays him $3,156,600 this year, followed by $4,008,882 and a player option of $5,375,910.
Minnesota second-year pro Andrew Wiggins has four years remaining on a deal that pays him $5,758,680, followed by $6,006,600, $7,574,322 and $9,846,619. Joel Embiid, who is expected to miss his second straight season with Philadelphia because of injury, will make $4,626,960 this year, followed by totals of $4,826,160, $6,100,266, and $8,003,549. Tarik Black, in his second season with the L.A. Lakers, has a one-year deal worth $845,059.