For most, golf amounts to a cruel tease. Regression follows improvement, over and over. The average golfer essentially runs in place thinking half the time that a great distance has been covered, convinced the horrors of the game have vanished from the rear-view mirror.
In so many ways, Yupaporn Kawinpakorn is not like most golfers, even beyond her obvious superior physical talent, contained in a 5-foot-2-inch frame.
Known by everyone by her nickname "Mook," a senior on the Kansas University women's golf team, she has a legitimate shot to contend for a national title.
"Everybody in Thailand has a nickname," Mook said. "Our names are so long."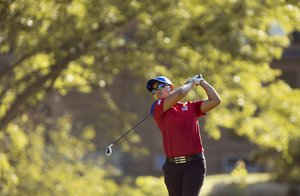 So are her tee shots. In fact, she estimated, that at an average of 240 yards, they're 30 yards longer than three years ago.
As a freshman in 2012-13, Mook, a native of Samutprakan, Thailand, set a school record with a 75.42 stroke average, rewrote the record (74.46) as a sophomore and did so again as a junior (73.35). In five events this season, her average is 71.21.
Josh Nahm, chief instructor at Firekeeper, former head of famed Hank Haney's junior program and a Lawrence resident, has guided her through each phase of improvement. Mook repeatedly references him when asked about her ascent toward the top of college golf.
As a freshman, Nahm gave Kawinpakorn the road map to straighter drives and she worked until she had that down. Then Nahm, with the help of launch monitors and searches for the just-right equipment to suit her game, taught her how to add distance to her drives and iron shots. Again, she made it happen. The next challenge, turning good swings into lower scores by managing the round well, kept her improvement rolling.
The shots went straighter and longer, the decisions became wiser, and the scores became lower and lower. Still, one statistic screamed that the toughest step remained unscaled. The yards no longer were a problem. It was the toughest six inches in sports she needed to free, that vast, vague, vital expanse of gray matter that extends from the left ear to the right.
Entering the season, Mook had won one tournament, as a freshman, and had 11 second-place finishes. That ratio bespoke two realities: First, she clearly had the ability to win multiple tournaments. Second, she didn't fully believe she was good enough to win.
"I was there, so many times, getting second spot," Mook said. "When you don't win, it's a bad feeling; sad too. I told myself, 'I don't want to feel like this again.' When I'm right there, almost win, almost win, never win, it's all up here (puts index finger to temple and taps twice)."
Mook said she talked it out with Nahm, a relentlessly confident, yet impossible-to-satisfy instructor.
"I talked to Josh a lot about how I think when I take the lead, when I'm a stroke back, what should my mindset be when I'm going into the final day," said Mook, whose nickname translates to "pearl."
She said that she used to "try to protect" her lead, by "trying not to make mistakes."
She was trying not to lose, instead of chasing victory.
"He told me just stay aggressive because I'm a very aggressive player. I go, 'Boom! Boom! right to the pin. Just go for it.' He told me to stay that way when I have the lead."
Mook started to say something else, stopped herself and continued: "I don't know if I should say this, but Josh said, 'Think that you're going to embarrass them, win by a lot, let them know you're the boss.'"
She wondered whether she should have shared that, but she didn't doubt the wisdom of the words.
No longer treading lightly around the second syllable of her last name, Kawinpakorn has won three of the five tournaments in which Kansas has played. Those were her only top-five finishes. She's closing like a shark in bloody waters.
Nahm has a built-in advantage, a spy almost, in taking Mook's mental temperature. Josh's wife, Katy Nahm, is KU head coach Erin O'Neil's assistant, and is with Mook daily.
Katy was a sounding board for Mook in the middle of her best round, a 63 in the Schooner Fall Classic at Belmar Golf Club in Norman, Oklahoma, last month.
"I got it going that day," Mook said. "I was so in the zone. After I finished my nine holes, I saw coach Katy and we walked on down to 10. I said, 'Coach, I think I just shot 6-under the front nine.' She was like, 'I know.' When I started three, four under, the words of Josh came into my mind: 'Hey, don't get nervous. This is the score you're supposed to shoot every time. It's very normal. Just think like that every time."
After the 63, Mook asked Josh Nahm, 'Do you like how I shoot today?' He said, 'You can still go a couple more.' I was like, 'Exactly.' Every time I talk to him, I never feel like, 'Oh, that's good. I don't have to get any better.' He did call me later that night and said, "Good job today."
Of course, that's not all he said.
"And then he said, 'Let's do some more. Let's shoot 20-under this tournament.' I'm not surprised. I knew he was going to say that."
And she no longer doubts that however high the bar is raised, she can clear it, knowing that means it will be raised again.
More like this story on KUsports.com