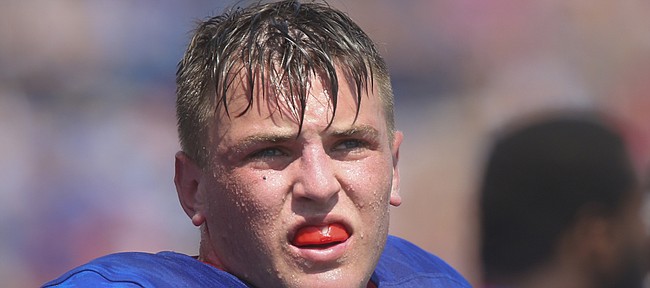 In back-to-back weeks, both losses by the struggling Kansas University football team, sophomore linebacker Joe Dineen Jr. recorded career-high, double-digit tackle totals, adding a silver lining to a season dotted with gray.
Dineen, the former Free State High standout who played running back his first season at KU and was recruited as a safety, said after leading KU with 11 tackles during Saturday's 58-10 loss at Oklahoma State that the reason for his sudden surge was twofold.
For starters, Dineen in recent weeks has begun better to pick up the little intracacies of his new spot on the field, thanks largely to the tutelage of linebackers coach Kevin Kane and defensive coordinator Clint Bowen, both former KU players.
"The position is just coming easier for me," said Dineen, who ranks fourth on the Kansas defense with 38 tackles, second in tackles for loss (3.5) and third in sacks (2). "I'm seeing movement better, and coach Kane and coach Bowen have both done a great job of helping me with my eyes and getting off blocks, all the stuff that comes with being a linebacker."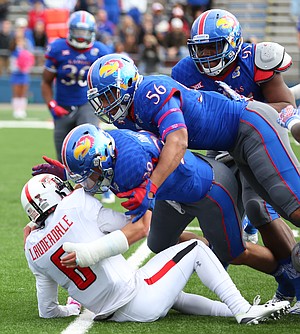 The other element of the game that has aided Dineen's rapid development is the one that got him playing football in the first place: the old-fashioned feeling of heading out to the park or the backyard with his buddies and letting loose.
"I love it," said Dineen of playing linebacker. "I really do."
Asked why those words were accompanied by a glow in his eyes, Dineen elaborated.
"Every play, you're kind of in the action, even if you're not," he said. "You know, a lineman will come up and hit ya. It's just fun. It's just football."
Dineen still has a long way to go before he can be mentioned in the same breath as the long list of talented linebackers that came before him during the past decade or two at Kansas. But the Lawrence native's combination of passion for the program, hunger to improve and natural football instincts certainly have him headed in the right direction. This, in just a handful of games at his new position.
Dineen said those natural football instincts have served him well in the transition, and, after spending the first three or four weeks of the season operating like a player who was still processing all of his responsibilities, Dineen has opened it up and let it rip a little more during the past few weeks.
"Not thinking as much," Dineen said. "Just kind of seeing things and going."
Never was that more evident than Saturday, when Dineen delivered the hit of the game in the loss to the Cowboys, a sack of Oklahoma State quarterback Mason Rudolph, who never saw Dineen coming from his blind side and crumbled after the contact.
"The D-end did a good job occupying the tackle, and I just got to come free," Dineen said in ho-hum fashion. "He held on to the ball a little longer, and no one came (to block me), so I just took my shot."
KU-OU set for 2:30
KU officials announced Sunday that the Jayhawks' home game Saturday against No. 13 Oklahoma will kick off at 2:30 p.m. and be televised by FOX Sports 1.
The official game-time announcement was delayed a week as the network sorted out its World Series coverage.
Saturday will be homecoming for KU. OU leads the series with KU, 33-14-3, in games played in Lawrence. Kansas' last win over the Sooners at Memorial Stadium was a 20-17 decision in 1997.