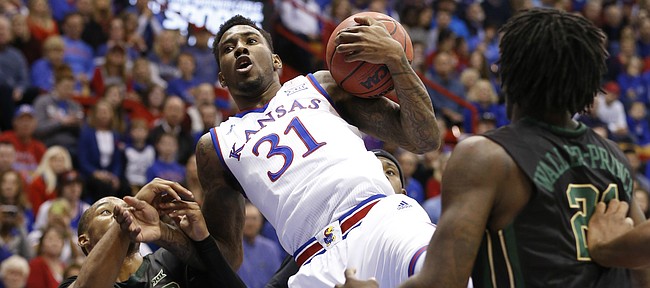 The smooth, skilled Golden State Warriors used free-flowing, stylish basketball and defeated the Cleveland Cavaliers in six in the NBA Finals last June.
That brand of basketball sure beat the lean-on-me-I'll-lean-on-you-harder battles that in recent decades too often left tall men in basketball jerseys looking more like one boxer clinching another in the corner of the ring.
When the NBA, which has far better shooters and even faster athletes than the college game, plays a more entertaining style on top of the unavoidable advantages, it became past-due time for the NCAA to see if it could legislate its way to prettier basketball.
It did, but enforcing rules intended to create freedom of movement from offensive players and promote scoring presents a far greater challenge than simply changing rules and points of emphasis.
Curtis Shaw, supervisor of Big 12 basketball officials, spoke last week at the conference's Media Day in Kansas City about "what we call the five major changes in basketball," intended to allow basketball players to show their skills without facing football-like defenses.
The refs, per an NCAA press release, have been told to "reduce physicality in order to create freedom of movement," in five areas:
• Hand-checking/body-bumping the ball-handler
• Physical post play and rebounding
• Freedom of movement for players without the ball (cutters)
• Screening — stationary screens required
• Offense-initiated contact with legal defenders
Other changes include reducing the shot clock from 35 to 30 seconds, expanding the restricted-arc area under the basket from three to four feet, a reduction of 30-second timeouts from four to three and limiting coaches to calling timeouts during dead-ball situations (yes!).
Among the changes Shaw demonstrated while showing game videos was one that forbids what's known as "chucking" a cutter, basically breaking his flow by giving him a forearm, subtle shove, or a hip.
"The only way you can stop a cutter who is illegally cutting through is, beat him to the spot with your body and stay in front of them," Shaw said. "In no way can you initiate into them with an arm, hip, anything. You have to be legal."
That's a welcome change, one that gives refs more to watch off the ball and therefore will require a big adjustment on their part and the guts to call consistently what always had been legal and drilled passionately by coaches into their players' brains.
Shaw explained some of the changes in the post.
"We don't want mosh pits, and, unfortunately, that's what we got to," Shaw said. "We lost the art of boxing out legally, and we have to get that back. ... If an offensive player makes a legal post-up, which means ... they get the defense pinned on the back side, and they can move their back side to maintain it, we're not going to let (defenders) use a knee, a swim stroke or any other movement to get around.
"I've had coaches going around saying, 'Well, how do we defend the post?' I said, 'You've either got to front, beat them to the spot, double-team or play from behind.' You cannot, when you lose position, just displace the player who has gotten in legal position."
In past years, most notably two seasons ago, efforts to clean up the game sometimes have resulted in so many whistles early in the year resulting in games that have no rhythm and leave crowds restless, even bored. Then as the season goes on, the new emphasis gives way to old ways, and except for muddying up the beginning of the season, not much really has changed.
Most signs point to the refs maintaining enforcement this time.
"Two years ago, the emphasis was on the perimeter," Kansas University coach Bill Self said at Big 12 Media Day. "This is an emphasis on everything. On an out-of-bounds under (the basket) play, if we start with my hands on him, foul. There's not going to be any hesitation.
"This won't trail off. It's the mandate from the head of the heads all the way down to everybody. Commissioners will be involved if they are not enforcing the rules or calling it the way they intended it to be called."
In the short term, this will hurt Kansas more than most because Self has done such an excellent job through the years at coaching players to defend with physicality off the ball.
Over time, things will even out because Self will do a better job than most of communicating the changes to his players and getting them to do what he wants them to do.
"The most physical team in the past seemed to me to always have an advantage," Self said. "We took great pride in our teams being physical. The team that hits first and team that doesn't allow you to get to your spot, teams like that will be the teams in foul trouble and the opponents will be shooting a lot of free throws."
Self said that he thinks basketball will "become a — 'finesse' game may not be the right word — but you can almost use that word. There will be more freedom of movement to actually make plays offensively."
That sounds terrific. I wish he had stopped there, because I had been trying to suppress the potential dreaded consequence of the rules changes. But he didn't stop there. He said it.
"I think there will be a ton of free throws," Self said, words that had the same impact on my ears as someone snapping gum loudly while dragging fingernails across a chalkboard and telling me the kitchen just ran out of flan.
Therein lies the challenge for those charged with legislating and enforcing a better game: Find the best way to do it without turning games into a boring succession of:
Whistle.
Everybody stops.
One player shoots an uncontested 15-footer.
Go back to the beginning and repeat steps 1 through 3.
It's definitely a worthy cause. Here's hoping coaches, players and partisan fans will try to put themselves in the refs' sneakers and show them patience. Yeah, that's going to happen.
More like this story on KUsports.com