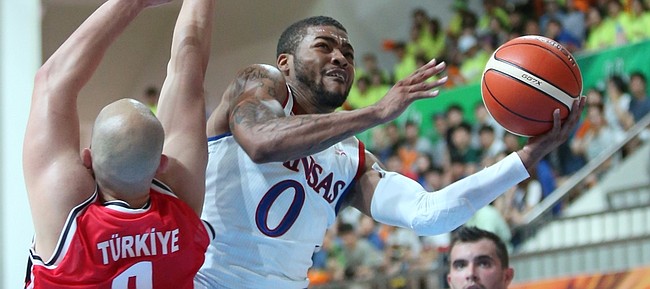 The TV cameras and still lenses don't often catch Frank Mason III smiling on the basketball court.
"I always keep the same face no matter what happens. That's just me. I'll try to smile more maybe this year. I don't know," Mason, KU's 5-foot-11 junior point guard from Petersburg, Virginia said, his voice trailing off.
Mason pinpointed the reason he rarely grins after made baskets or alley oop passes to his teammates for highlight-reel slams.
"I'm just thinking about winning — the final score every game. That's what goes through my mind," Mason said. "I want to win every game. No matter what happens or how the game is going, I want to win."
KU has won 52 games against 19 losses and snared a pair of Big 12 regular-season titles in his first two years at KU. However, the Jayhawks are just 2-2 in the NCAA Tournament in that span, last March suffering a defeat to Wichita State in the third round.
"I think about it all the time," he said of a 78-65 setback to WSU in Omaha in which he had 16 points, one assist and five turnovers in 29 minutes. "Right now I'm just trying to focus on the season. (But) I definitely have flashbacks of that game. Stuff happens. We weren't at our best then. They were the better team and got the win."
Mason had a stellar sophomore season in averaging 12.6 points, second best mark on the team. He also dished 142 assists against 74 tunovers while leading the squad in minutes played (33.2 per contest). For his efforts, he earned second-team all-Big 12 honors.
"Honestly I don't care about all-Big 12 first-team, second team, honorable mention, none of that. I just want to win every game we play," Mason said. "We'll try our hardest to work hard to do whatever coach (Bill Self) wants to give us the best chance to be successful. All that other stuff doesn't matter to me."
Mason's on-court production combined with his focus and intensity make him the obvious choice for team leader again this season.
"You have to have a guy that's really vocal out there and a great leader to get everyone going, everyone motivated," said the no-nonsense Mason, who admits his biggest joy is keeping up with his family back home in Virginia.
"My son is doing good," he said of Amari, who is in pre-kindergarten. "He just started school. We're pretty excited about that. I definitely do miss home. I miss everyone. I try to look at the bigger picture, stay positive. I'm always thinking about the things I can control. I do Facetime with him, just to see that face and get me in a better mood."
And get him smiling, he might have added.
Recruiting talk: Mitch Lightfoot, a 6-8, 210-pound senior power forward from Gilbert (Arizona) Christian High, will announce his college choice at 3 p.m., Central time, Saturday, at the 2015 Arizona Preps Fall Showcase in Glendale, Arizona. The finalists for Rivals.com's 117th-rated player nationally are KU, Arizona, St. John's, Utah and Stanford with many recruiting analysts believing KU will win out over U of A. Lightfoot averaged 17.9 points, 9.7 rebounds and 3.9 blocks a game last year for state champion Gilbert.
"Lightfoot is an attractive recruit not only because he is able to stretch the defense with his ability to hit three-pointers, but because of his toughness and quickness around the rim. He is a strong defender who anticipates well and has a nasty streak that coaches love," writes Richard Obert of azcentral.com.
Also this weekend, Jarrett Allen, a 6-9 senior forward from St. Stephens Episcopal School in Austin, Texas, who is ranked No. 20 nationally, will make an official visit to KU. He is also considering Notre Dame, Houston, Indiana, Kansas State, Kentucky, North Carolina and Texas.
More like this story on KUsports.com