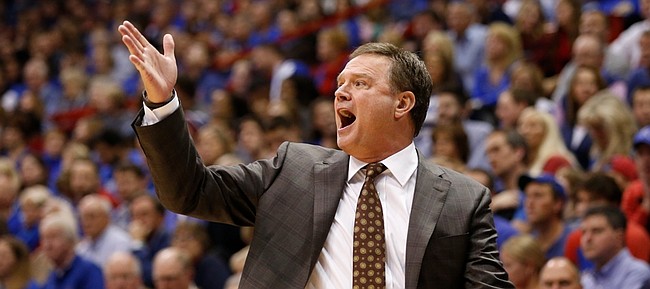 Kansas City, Mo. — Kansas University's Bill Self will be the first of 10 league coaches to speak at Big 12 Media Day this morning in Sprint Center, which, of course, is located in Royals-crazed Kansas City, Missouri.
The Royals are in the midst of their second-straight baseball playoff run. KU, meanwhile, has won 11 league titles in a row entering the 2015-16 season.
"It's hard," Self said, asked how difficult it is to repeat in sports. "What Dayton (Moore, Royals GM) has done and everybody over there with that team is nothing short of miraculous. To think we (Royals) have been on the outside looking in for so many years, now everybody's chasing us. It's cool, exciting to see."
On Kansas City skipper Ned Yost, Self said: "I don't know him, but what a job he's done. Guys seem to be having so much fun. Hopefully we're the same way. Sometimes when you win a lot it creates pressure because of expectations. How do you handle that and still have fun? Our guys have done a good job. They are serious, without question, but are out there having a good time. Certainly our fans make it extra special to play at KU."
Self and Jayhawk players Perry Ellis, Frank Mason III and Hunter Mickelson most assuredly today will be quizzed about the pressure they may feel in going for yet another crown.
"We want them to feel pressure," Self said, "because pressure usually creates more energy and better performance. We talk about it openly. We don't talk about so much winning 12 in a row. What we do talk about is being champion every day and being Big 12 champions every day. That's how we break huddle after practice: 'Big 12 champs.' There's a subliminal message being sent to these guys. They talk about it among themselves a lot. They don't want to be the team that doesn't win one.
"Last year, what a job our guys did to win the league when it was so competitive and we were so banged up down the stretch," Self added. "Having to come basically 20 down in the second half to beat West Virginia without Perry (knee injury). Those are great things. I think it (league dominance) is taken for granted around here, which is rightfully so, because these guys have experienced quite a bit of success."
The Big 12 has been called potentially the second-toughest league in the country this season behind the ACC.
"Our league didn't do as well in the tournament last year — obviously as well as we thought we could and potentially could," Self said. Iowa State lost to UAB and Baylor lost to Georgia State in the second round. KU lost to Wichita State in the third round. West Virginia lost to Kentucky and Oklahoma fell to Michigan State in the Sweet 16.
"Our league was the most balanced league in the country. Nobody argued that. There were more good teams in our league than any other league. We did not have an exceptional team (in league). We had an unbelievably good, well-balanced league that had to come to play every night. I think our league will be great. Stop and look at it with the potential of having two to three teams preseason Top 10 (KU, ISU, OU). I don't think our league will take a step backward at all," Self added.
Lightfoot chatter: An Arizona recruiting website, pointguardu.com, says Mitch Lightfoot, a 6-foot-8 forward from Gilbert (Arizona) Christian High, will choose KU over Arizona, Stanford, St. John's and Utah on Saturday.
"Mitch Lightfoot will be heading to Kansas now that Lauri Markkanen has chosen Arizona," the website tweeted on Monday.
Markkanen, the 6-10 son of former KU player Pekka Markkanen, committed to Arizona on Sunday. Lightfoot is ranked No. 117 in the Class of 2016 by Rivals.com.
"Lightfoot is an athletic frontcourt player who has a nonstop motor and some faceup skill," writes Eric Bossi of Rivals.com. "He's scheduled to announce his decision on Saturday. Lately, most talk has centered around the Wildcats and Jayhawks, and with just under a week to go it looks like it would be a surprise for Lightfoot to pick a school outside of those two."
Wild quote: Former KU assistant coach Alvin Gentry spoke to reporter Alex Risen of ABC 36 in Lexington, Kentucky, before the recent New Orleans-Sacramento game at Rupp Arena in Lexington. In a quote getting a lot of play on Twitter, Pelicans coach Gentry said: "I was at Kansas. Great program. This place is Kansas on steroids."
More like this story on KUsports.com