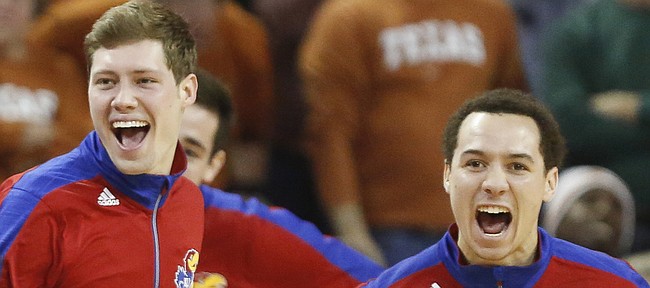 Tyler Self, a junior basketball player at Kansas University, and Evan Manning, a senior, will need to make important decisions on their career paths in the not-so-distant-future.
Considering their dads — Bill and Danny — are successful in coaching the college game, it seems logical to see if that's the avenue the KU upperclassmen might want to pursue as well.
The answer in both cases?
Maybe.
"I don't know exactly what I want to do. I want to do something with basketball. I'm not sure it's coaching," said Self, a 6-foot-2 guard out of Free State High, who, like Manning, is a non-scholarship player. "I wouldn't rule it out. I think I'd want to work more on the administration side of basketball."
He is on track to graduate in the spring, which will give him a chance next year — his fifth and likely final year on campus (he red-shirted in 2013-14) — to continue his studies.
"I'll either take a lighter load or start working on an MBA or maybe try to get a law degree," said Self, a sports-management major.
Manning, a 6-3 guard also out of Free State High (as well as one year at New Hampton Prep), is on track to graduate this year with a degree in sports management and a minor in business.
"I'm keeping my options open," Manning said, asked about coaching. "I've got to weigh the pros, cons, figure what my goals are for the future and what opportunities present themselves.
"I want to do something competitive, whether in sports or the stock market, something along those lines," Manning added. "I want to do something that's team oriented. I like working with people and doing stuff as a team, accomplishing goals. That's one of my favorite things."
Manning so far in his career has scored 15 points and dished four assists vs. seven turnovers in three seasons. Self has six points, three assists and five turnovers in his two seasons.
Both logged some playing time at last summer's World University Games.
Self made a three-pointer while playing 18 minutes against Switzerland. He played five minutes versus Chile and two in the quarterfinal victory over Lithuania.
Manning scored two points vs. Chile and also played 19 minutes against Switzerland, grabbing four rebounds with a steal. He played two minutes vs. Lithuania.
"Tyler played better than me," Manning said. "I turned it over too much. It was a fun trip. We learned a lot as a team and got better."
"I think going to South Korea helped us and showed us some things we can do and work on as well, which is pretty exciting. I think we have a chance to be pretty good," Self said of the 2015-16 Jayhawks.
Both Self and Manning said they've thoroughly enjoyed their time at KU. Neither wishes he had gone to, say, a lower-level school and garnered more playing time.
"This is the best choice I've ever made," Manning said. "I love this place, love this university. To be part of something as big as Kansas basketball ... the little piece I am, it's been unbelievable."
Noted Self: "I don't think about that too much. I like where I'm at. I love this university, love this team. It's not something that crosses my mind."
The J-W spoke with each player on a variety of topics.
Self on freshman forward Cheick Diallo: "He has some stuff to learn. He tries hard. He shows he has that motor everybody talks about and he's eager to learn."
Self on what would be a perfect junior year: "Hopefully we could put ourselves in position to compete for another Big 12 title, play well in the Big 12 tournament and try to make a run in the postseason."
Manning, on the team playing with a 30-second clock instead of 35 this season: "Coach all summer was challenging guys to play faster and faster," he said of the 24-second clock used at the World Games. "After playing and practicing over time it became second nature. Guys get the ball, swing it side to side a couple times, the defense breaks down, Wayne (Selden) gets in the paint or makes a play for Perry (Ellis). It's what guys focused on, making plays for others. Things we normally do with the 35-second clock we had to do faster."
Manning on his dad, former KU All-American Danny Manning, who is coach at Wake Forest: "It's cool. You walk around and see pictures of him everywhere. It motivates you to keep working hard. Things paid off for him in the end. That's my goal, to be successful in whatever I do. He is my role model. He's proud of the fact I'm here. It's cool it's his alma mater. Playing for coach Self has been a blessing."
Giles update: Harry Giles, a 6-10 senior forward who is ranked No. 2 nationally by Rivals.com, will not visit North Carolina, Zagsblog.com reports. He has visited KU, Wake Forest and Kentucky, with a visit to Duke slated for Halloween weekend.
More like this story on KUsports.com