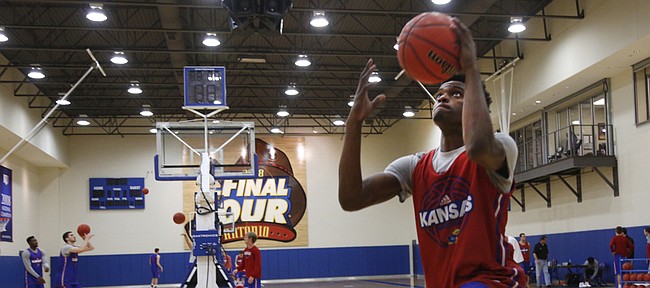 Lagerald Vick, who averaged 27.0 points a game his senior year and 24.0 points his junior campaign at Memphis' Douglass High, certainly knows how to put the ball in the basket.
"He can make shots, without question," Kansas University coach Bill Self said of Vick, the lanky, 6-foot-5 freshman combo guard who averaged 4.5 points off 51.6 percent shooting (57.1 percent from three) for the gold-medal-winning Jayhawks at this summer's World University Games. "But he's a slasher, an athlete, quick-twitch kid."
Those traits have Self salivating about Vick's potential as a defensive standout at the college level.
"He's got a lot of stuff to learn. In general, he could be a great defender if he can figure it out. He could be as good a defender as we have," Self said.
Vick already is trying to embrace that role.
"There's a lot of talent here, a lot of scorers here, so I've been working on defense and being part of the team," Vick said. "Wayne (Selden Jr.) and Frank (Mason III) have made me focus on defense and helped me a lot."
Vick realizes he has a lot to absorb at this level.
At the same time, he's thankful for getting a head start on his education at the University Games. His best game was an 11-point, seven-rebound outing in 15 minutes played vs. Switzerland.
"Playing in South Korea gave me an advantage over all the other freshmen (in the country)," Vick said. "I learned about team chemistry from the guys who have already been here. They helped me a lot."
Getting to play in the World Games is the No. 1 reason former Rivals.com's No. 33-rated player decided to reclassify from the recruiting Class of 2016 to '15 and play in college this season. He decommitted from SMU in the spring and ultimately chose KU over Kentucky, Kansas State, Auburn and others.
"Getting to play (in Korea) … it totally did (make difference)," Vick said. "I knew it would be a great opportunity. (Also) the history of all the different guys who came here. I knew it was a great program, and coach Self told me what the standards were. I agreed with it (standards). It's what made me pick Kansas over everywhere else."
He hasn't been disappointed with his choice.
"Coming to Lawrence was probably the best thing that has ever happened to me. I like the Jayhawk family. I've never had a feeling like this. It's all a blessing," Vick said.
His teammates believe he's certain to have a fine career.
"Lagerald is an athlete. He has a quick first step. He shoots the ball pretty well. He can get in the lane and finish," sophomore Devonté Graham said. "He listens and puts in the effort on both ends of the court."
Markkanen to 'Zona: Lauri Markkanen, a 6-10 high school senior center from Finland, on Saturday committed to Arizona over North Carolina and Utah. He is the son of former KU center Pekka Markkanen, who played for the Jayhawks one season (1989-90) before starting a pro career in Finland that lasted until 2007. His brother is pro soccer player Eero Markkanen.
Sixers refute story: Philadelphia 76ers coach Brett Brown tells the Philadelphia Inquirer that a Sports Illustrated story on Joel Embiid having a bad attitude is "wildly inaccurate" and "wildly unfair."
The S.I. article said Embiid's refusal to wear a walking boot might have led to a second surgery on his right foot. The story also said former KU forward Embiid has had conflicts with training staff and refuses to eat the healthy food the team has provided him, instead choosing "hot dogs, chicken fingers and pitchers of Shirley Temple drinks."
"The story is old. It's been documented. The media did a hell of a job reporting accurately what has been going on," Brown told the Inquirer. "To all of a sudden wake up and have these things be revisited, I think in some ways is unfortunate and sad."
Brown told the paper it was not true that Embiid was instructed to skip the Las Vegas Summer League, but went anyway because he wanted to party.
"I'm proud of where Joel Embiid is at," Brown told the Inquirer. "He's had a rough few years of not playing. He will get there. We're moving him forward. And more importantly, he's moving himself forward."
More like this story on KUsports.com