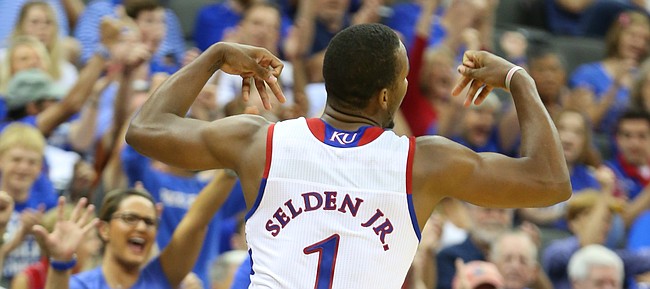 Wayne Selden Jr. grabbed an offensive rebound and slammed it through the hoop one minute and the next drove hard across the lane, angled his body both to avoid the defender and square himself for an easy bucket and banked a soft shot off the glass at Kansas University's Thursday afternoon basketball practice.
The thing he did not do much of was stand and listen to coaches' corrections. He no longer is a strong-willed freshman internally fighting the urge to do it his way, not the coaches', or a sophomore knowing what to do, but fighting to focus well enough to do what he's supposed to do every possession.
Selden looks thinner, but he said his weight is the same. He even looks taller. Could it be he has grown an inch?
"Maybe a little bit, hopefully. I don't know," Selden said after practice. "Maybe. We actually got measured today. I got measured today at 6-6 with shoes on, but you never know."
He's playing taller than ever, no maybe about that.
Attacking from the wing on the dribble and crashing the offensive boards, Selden looked comfortable in the land of giants Thursday. Small guards Devonté Graham and Frank Mason III played in tandem, turning Selden into a moving part who scored from everywhere on the floor.
"That's one thing we've done an awful job with the last two years, play to his athletic ability and his strength," coach Bill Self said. "I think when you play two little guards together, it will help him do that, as opposed to him being one of the ball-handling guards. So I'm excited to see him attacking the basket a lot more this year."
Selden showed no signs of an ankle sprain that has slowed him the past few weeks. He looked explosive and quick. He presents a nightmare matchup for many teams trying to figure out how to guard him, and he can be used by Self to guard players of different sizes and styles.
Beyond his physical gifts, Selden brings a great deal of experience, the likes of which isn't often seen at the elite level of college basketball.
Selden, a third-year starter, brings 2,082 minutes of experience into the season, Perry Ellis 2,455 minutes and Frank Mason 1,774 minutes. Heading into last season, Ellis' 1,477 minutes made him the team's most experienced player.
So when Selden hears talk of KU's depth, he takes it a step beyond merely talent.
"I feel like we're deeper because of experience," he said. "We have a lot of guys coming off the bench who know what they're doing, so that's going to be big for us."
Selden playing bigger will be big as well.
— Tom Keegan appears Sunday nights on "The Drive" on WIBW-TV
More like this story on KUsports.com