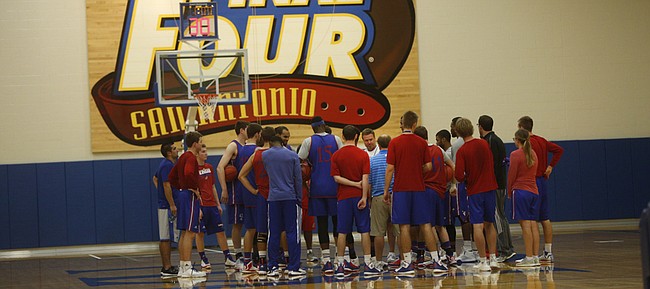 Bill Self is the only Big 12 basketball coach who did not pick Kansas University to win its 12th-straight conference title in the league's preseason poll.
Of course, he wasn't allowed to tap the Jayhawks: Coaches are not permitted to vote for their own teams.
"I voted for Iowa State. Obviously, I thought they had the best roster in our league last year," Self said after practice Thursday. "Oklahoma probably returns as much experience as Iowa State."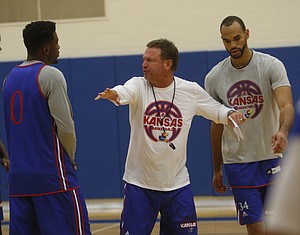 The Sooners actually placed second with 70 points to KU's 81. ISU was third with 68, followed by Texas, Baylor, West Virginia, Oklahoma State, Kansas State, TCU and Texas Tech.
"It seems unreal to be unanimous when you've got the preseason seventh- and eighth-ranked teams in the country," Self said, referring to the USA Today poll, which on Thursday selected KU No. 5 overall.
"I think Iowa State would have gotten more first-place votes if Fred (Hoiberg) had still been the coach. Steve (Prohm) is going to do a great job, but there's the unknown of the coach. Just like, you lose a point guard, there's the unknown of a point guard. There's the unknown of how they'll mesh playing Steve's style. I think they'll do great. I think they can go to the Final Four. I think OU can go to the Final Four. I think if we played well, we'd have a shot. West Virginia and Baylor are preseason rated, too. The league is going to be great."
Coleby out of surgery: KU junior transfer Dwight Coleby had successful left knee surgery Monday in Lawrence, Self said. "The doctors said it went perfect. They did a lot of work. They did the ACL and had to repair some other stuff while they were in there," Self said. "They think if he works hard in rehab, no reason why he can't be ready to go in six or seven months."
Rest and plenty of fluids: Self, who has been suffering from a lingering viral infection that has turned into a sinus infection, had to skip the Royals-Astros game Wednesday.
"I don't know if you can tell I've lost my voice. I haven't felt great. Everyone I know went. Everyone I'm related to went. I watched it on TV," Self said with a smile of KC's 7-2 ALDS-clinching victory.
Tharpe in town: Former KU guard Naadir Tharpe, who is coming off hip surgery, attended Thursday's practice. Self said Tharpe is about a month away from returning to action, but the injury likely will prevent him from playing pro ball anywhere this season.
"I hadn't seen him since he left (after junior season). Same ol' Naadir, though. Full of energy and personality. It was good to see him," Self said.
Self says: Self commented on several players after practice.
On freshman forward Carlton Bragg and the frontcourt: "I think Carlton is going to be great. He's been well drilled. I think he will definitely impact us right off the bat. Landen (Lucas), Hunter (Mickelson) and Jamari (Traylor) are all playing pretty well right now, so it looks like a crowded house. If you look at raw potential our two most talented guys other than Perry (Ellis) are freshmen (Cheick Diallo and Bragg)."
On senior forward Ellis: "Perry is playing at a really high level. He looks leaner to me. He's more explosive. We're trying to play him everywhere on the court. To me he looks more athletic."
On junior wing Brannen Greene: "This is the first day he practiced this week because he bumped his knee. He's doing fine. He can shoot."
Jamari Traylor on freshman Cheick Diallo: "He's good. He's aggressive. He took me out earlier (hitting him in face while playing inside). You've got to tell him to rev it down a little bit. That's a good problem to have."
Of getting hit in the head, Traylor said: "I was mad, but I can't be mad at Cheick. He didn't try to do it. I had to take my time and shake it off. I got up and continued on with practice. It is physical," he added of practice. "Guys flying around, guys checking you all the time. It gets you ready."
More like this story on KUsports.com