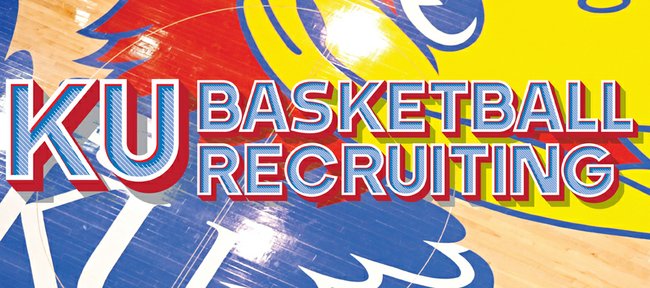 Basketball notebook. ...
Jarrett Allen, a 6-foot-9 senior forward from St. Stephens Episcopal School in Austin, Texas, who is ranked No. 20 in the recruiting Class of 2016 by Rivals.com, will make an official visit to Kansas University on Oct. 23-25, Jayhawkslant.com reports.
Allen — he averaged 21.4 points, 13.3 rebounds and 4.1 blocks a game his junior year of high school — visited Notre Dame last weekend. He's slated to visit Kentucky on Oct. 30-Nov. 1. He's also considering Houston, Indiana, Kansas State, North Carolina and Texas.
"Jarrett is athletic, but has such a calm demeanor on the court, similar to Tim Duncan," Allen's AAU coach, Maryland Lowe of Texas PRO, told Rivals.com. "He's a very special player and I think if he had played in the NBA Top 100 camp and wasn't injured, you guys (media) would have seen that he is a top-three player. Maybe even higher.
"He's not going to get rattled, that's for sure. He has such comfort shooting the ball from the outside and he can make that soft jump-hook right handed and left handed. In fact, if you didn't know, he shoots it with his left hand so well, that some people walk away from watching him, thinking that he is actually left-handed," Lowe added of Allen, who has a 7-foot-4 wingspan.
Young had good KU visit: Trae Young, a 6-1 junior point guard from Norman (Oklahoma) High, who is ranked No. 26 in the recruiting Class of 2017 by Rivals.com, will follow his visit to KU with a trip to Kentucky this weekend and Oklahoma State on Oct. 23, his dad told Zagsblog.com.
"Kansas was great," said Trae's dad, former Texas Tech standout Rayford Young, who scored 41 points in a home victory over KU in the 1998-99 season. He went 18-of-18 from the free throw line in that game.
"We got a good feel from the coaches and the program," Rayford Young added, noting his son would soon put out an official list of contending schools. Duke, Texas, UCLA, Oklahoma and many others join KU on his early list.
Alkins was kidding: Rawle Alkins, a 6-4 senior shooting guard from Word of God Christian Academy in Raleigh, North Carolina, who is ranked No. 9 in the Class of 2016, recently joked on Twitter that he committed to Buffalo.
Many fans believed him.
"Sorry guys people at my school was playing with my phone ain't nothing wrong with buffalo great program but no i am not really committed," he wrote on Twitter.
Alkins has a list of KU, Indiana, Kentucky, Louisville, N.C. State, North Carolina, UNLV and St. John's. He recently visited St. John's and N.C. State. He has said he definitely will make a visit to KU and likely sign with a school in the spring.
Azubuike update: Udoka Azubuike, a 6-11 senior center from Potter's House in Jacksonville, Florida, who has visited KU, North Carolina State and Florida State, will visit North Carolina on Oct. 23-25, his brother told Zagsblog.com. He currently has no other visits planned.
Ellis on Vitale's team: Kansas University senior forward Perry Ellis has been named to Dick Vitale's second-team All-Solid Gold squad, which is the ESPN announcer's preseason All-America picks.
First-teamers are Melo Trimble, Maryland: Buddy Hield, Oklahoma; Malcolm Brogdon, Virginia; Kyle Wiltjer, Gonzaga and Georges Niang, Iowa State.
Big 12 second best: ESPN.com has ranked the Big 12 Conference the second best league in the country behind the ACC entering the 2015-16 season.
"No league's contingent of (presumed) top teams brings back more minutes and possessions from last season than that of the Big 12," writes John Gasaway of ESPN Insider. "Kansas effectively has the same level of returning experience as North Carolina and indeed was the stronger of the two last season — that is until the Jayhawks lost to Wichita State in the round of 32. Oklahoma returns the reigning conference player of the year, Buddy Hield, and three other starters from a team that received a No. 3 seed, and fellow 2015 No. 3 seed Iowa State brings back everyone except Dustin Hogue, Bryce Dejean-Jones and coach Fred Hoiberg.
"Throw in the league's own potentially dazzling freshmen (e.g. Cheick Diallo and Carlton Bragg at Kansas) and the fact that Baylor too has a shot at a preseason top-25 ranking and you're clearly looking at one of the strongest conferences in the nation for 2015-16. Perhaps even the strongest."
More like this story on KUsports.com