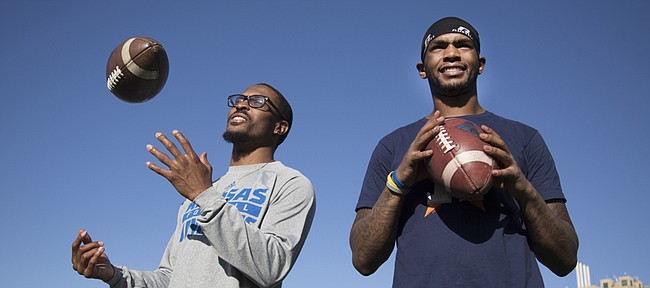 In January of 2011, Darron Thomas was on the top of the college football world, starting at quarterback for Oregon in the national championship game.
Today, Thomas, 25, is spending his days closer to the college football basement — and loving it.
In town to observe Kansas University football practices with close friend and arena league teammate, Duane Brooks, Thomas, a self-described "football head" has enjoyed everything he has seen from the Kansas coaches and players. So much so that last Friday, during a motivational meeting, the former Oregon QB raised his hand and spoke up. The message was simple. And it went a long way.
"I'm just coming from a heart standpoint," said the former LSU commitment and Houston native. "They haven't won here in a long time. Back where I'm from, winning's what we do. I'm just giving 'em belief that they can do it."
Although most players on the KU roster still were waiting to become relevant for their high school teams at the time Thomas was throwing for 2,800 yards and 30 touchdowns while leading Oregon to an undefeated regular season, many of them were very aware of who he was when they first met him late last week.
"There were some guys saying, 'Oh, that's him, he played for Oregon, I used to play with him on NCAA Football (video game),'" KU junior Fish Smithson said. "There were a lot of those conversations. And Duane, he played for (KU) coach (David) Beaty and that shows a lot. Ten-plus years later he comes back and still wants to be connected."
Added Thomas, who said he spent most of his time emphasizing to the Jayhawks that they belong: "They were wowin' when they saw me, because they were like, 'Man, he was a top player.' But I was like, 'I'm one of y'all. I come from the same place and we do similar things.' Now they've got the belief that we're not superstars, we're the same level and everybody can do the same thing."
That belief is at the core of what Beaty has tried to establish during his first season in charge of Kansas football. That's where the "Earn It" mantra comes from, and, according to Brooks, it's something that Beaty has always preached.
"It doesn't take long to understand the genuine love that guy has for athletes and just people in general," said Brooks, who played quarterback for Beaty at McArthur High in Irving, Texas, from 2002-04. "That was somebody that I looked up to as a mentor who just embodied a lot of things I wanted to be. I got the chance to play for him and I've never met a coach that could hold his jock since then."
Although NCAA rules have required Thomas and Brooks to observe from a distance during their time in Lawrence, both said just getting the chance to be around Beaty and such an upbeat program has been a joy. What's more, the tips they've shared and the words of encouragement they've offered already appear to have made an impact.
"Coach Beaty said he's seeing the response and he liked that," Thomas said. "At Tuesday's practice, he said, 'You all want to run around for these guys, I've been trying to get you to run around like this all year.' Sometimes they just need to hear it from the players and the ones that are actually doing it."
Smithson, who said several KU players have asked for their visitors' phone numbers so they can stay in touch, agreed: "I think it helps a lot coming from those two. Sometimes if you keep hearing it from a coach or one of your teammates, it can get brushed off. But if you hear it from guys who have done it, and done it successfully like those two, it hits."
A random visit from a couple of strangers and future friends likely won't do much to change any outcomes the rest of the season. The Jayhawks, who lost last week, 66-7 to Baylor, once again are heavy underdogs this Saturday against Texas Tech — 11 a.m. kickoff at Memorial Stadium — and figure to be at least four-touchdown underdogs to most opponents the rest of the way.
But Thomas likes what he sees here, and a big reason he believes in KU's future is because of Beaty's message and the way the players seem to be responding.
"I never had a coach tell me he loved me," Thomas said. "I did so much for a coach and I never heard him just say, 'Thank you.' And coach Beaty's telling these dudes that before they've even done anything. I tell 'em, 'He's giving you all that, why aren't you out there breaking your necks for him?'
"I think Kansas is gonna make a turn really soon. And it's only gonna take one game. It's just installing that confidence. Last week, before they played Baylor, I was like, 'Y'all acting like you're D-III and they're D-I. You're all the same, you all were recruited to play D-I football, you just gotta go out there and play like it.'"