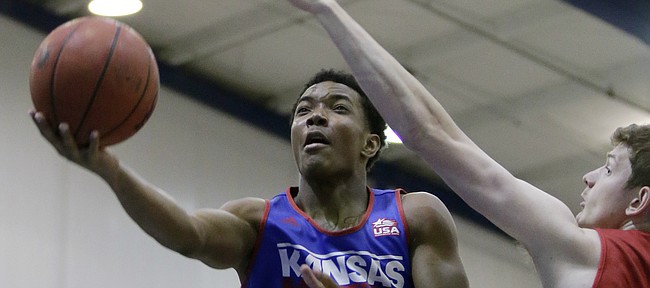 Five themes have dominated the offseason for a Kansas University basketball program that has so much experience, balance and talent that expectations run even higher than usual, which says a lot.
No. 1: Jitters surround Cheick Diallo's eligibility status.
No. 2: Optimism abounds regarding Wayne Selden Jr.'s junior year in the week of his big performance in the World University Games.
No. 3: Frank Mason III just keeps getting better, playing bigger, tougher.
No. 4: Perry Ellis figures to become the Kansas University basketball program's best senior since Sherron Collins.
No. 5: An additional year of maturity for Svi Mykhailiuk, 18, sends the imagination sprinting over what big things he can contribute.
Meanwhile, just as much a key as anyone to KU's success, sophomore guard Devonté Graham, flies under the radar. Is this the year that the pass-first point guard blessed with a soft shooting touch takes charge and makes sure the ball ends up in the right hands, even if that means barking at teammates who put the ball elsewhere?
One of coach Bill Self's stated goals for the upcoming season is for the team to play faster. Another involves doing a better job of feeding the post. Graham can make both happen.
A starting lineup consisting of Graham, Mason, Selden and big sprinters Ellis and Diallo could score a ton of easy buckets on the break and prevent them at the other end in transition. That sort of speed could exhaust most teams trying to keep up. Looking at what's left on the bench to spell them could downright demoralize opponents.
If those five start, Carlton Bragg, Hunter Mickelson, Landen Lucas and Jamari Traylor would be available to lend rebounds, fouls and energy in the frontcourt and Svi, Brannen Greene and Lagerald Vick could help on the perimeter.
"You can sub somebody out and the next person can fill that same spot just as good, even better than the starter," Graham said of the team's depth.
A faster pace suits a deep team.
"That excites all of us," Graham said. "We all like to run, get up and down. Nobody really likes to play slow."
Graham said he has spent a lot of time talking with assistant director of student-athlete development Aaron Miles about how to lead a team and "how to get people certain shots."
Miles excelled at feeding the post and can educate Graham and Mason on how to do it better.
Playing both small guards together can make KU a more efficient team on the run and in the halfcourt.
"You look at it the last two years, we've played with one guard, and that seems kind of weird," Self said "but Wayne coming was a prototypical two guard, but when he got here, he was really a three. (Andrew Wiggins) was a three. Kelly Oubre was a three, and those guys weren't natural as far as just being able to feed the post and play the angles and things like that. So I think we'll be much better at that this year, and I think we'll be a much better passing team, especially because we'll play two little guards a lot together."
Both little guards will be better versions of themselves.
"My knowledge of the game, that's one big area," Graham said when asked to explain how he has improved. "There's a lot more to it than people actually realize. I think I've gotten stronger, faster. My knee (which sidelined him from playing in the World University Games) is healthy and feeling good. Also, I think my jump shot has improved."
Not that it needed to much. Graham, who led KU with 17 points and five steals in a season-ending loss to Wichita State, shot .425 from three last season and Mason shot .429. They have the long shots covered. Now, setting up teammates for more shots closer to the basket becomes an extra challenge.
Ideally, KU would have one more small guard, but that's a greedy way to look at it. Nobody in the country feels sorry for the Jayhawks as their roster stands now, even less so if Diallo gains eligibility.