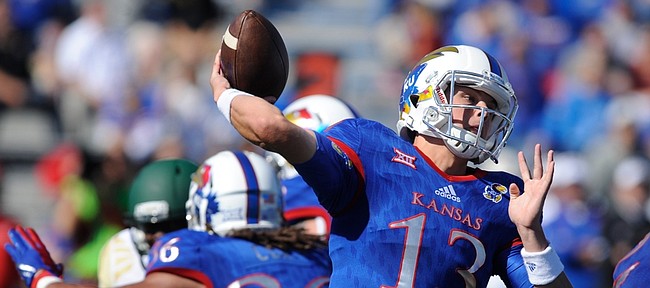 Two days after Ryan Willis made the first start of his college career, Kansas University football coach David Beaty said Monday morning that Willis, KU's freshman quarterback, would make his second start this weekend.
Willis, who handled the snaps during Saturday's 66-7 loss to Baylor in place of injured starters Montell Cozart and Deondre Ford, did enough good things and played with enough poise, pride and promise to earn another shot this week against Texas Tech, 11 a.m. Saturday at Memorial Stadium.
"He's definitely getting start No. 2 this week," Beaty said.
After the loss and before he watched the Baylor film, Beaty said he thought Willis' first outing as the Jayhawks' top QB was "a great start."
Monday, Beaty elaborated a little, armed with the extra knowledge that came from reviewing the film.
"He didn't play great," Beaty said. "But I tell you what, for his first start, he did some really nice things. And his team really rallied around him, and they had confidence in him. I mean, that cat had no shortage of confidence, and it was fun to see him go out and have a lot of fun."
Willis' numbers were modest at best. He completed 20 of 36 passes but only for 158 yards and added one touchdown and one interception while also losing a fumble.
At no point, however, did the stage look too big for him, and Beaty said that made it easy for the rest of the Jayhawks to follow and fight for him.
"They know that he's a confident guy, and he studies and prepares well," Beaty said. "And they also know that he's a talented guy, and they respect that as well."
One of Willis' biggest talents showed up big-time in Saturday's loss, as he used his big arm to take several deep shots down the field.
He only connected on a couple of them, including the first-quarter touchdown to Steven Sims Jr. But the fact that Willis' skill set allowed Beaty and offensive coordinator Rob Likens to dial up more deep balls should help the Kansas offense in the coming weeks — particularly the running game, which, after back-to-back solid showings to open the season, has averaged just 57 yards per game and 1.7 yards per carry during KU's last three losses.
"Any time you throw the ball down the field, you're blowing air in the defense," Beaty said. "You're putting distance between that second and third level. And when you do that, that's where big plays happen in the run game."
While the KU coaches have emphasized that establishing a strong running game is as important as anything in the Jayhawks' Air Raid offense, Beaty admitted Monday that he would like to see his team force the ball down the field more often than it has and added that he believed Willis was the guy to do it.
"That's what we've said we want to do," Beaty said. "We've said it from the very beginning. We need to be taking at least a shot a quarter down the field to try to blow air in the defense. That's something we'll continue to work at, and I think that deep ball will do nothing but help us."
KU-OSU to kick at 2:30 Oct. 24
KU's next chance to end its 35-game losing streak away from Lawrence is set for a 2:30 p.m. kickoff, the Big 12 announced Monday.
The start time for KU at Oklahoma State, which will take place on Oct. 24 and be televised by FOX Sports 1, will end a streak of four consecutive 11 a.m. starts for the Jayhawks, who opened the season with five of six starts before noon.
More like this story on KUsports.com