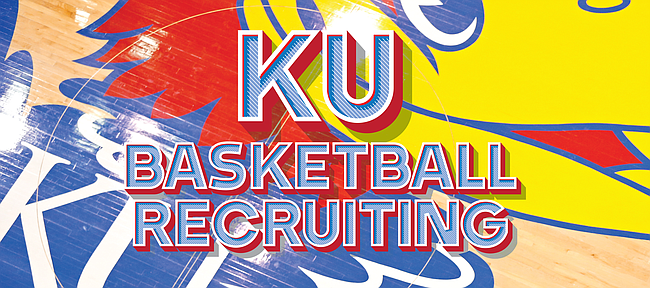 Three of the country's top high school junior basketball players — No. 3-ranked Michael Porter, No. 26 Trae Young and No. 37 Mitchell Ballock of Eudora High — took a tour of Kansas University's new living facility, McCarthy Hall, before Friday night's Late Night in the Phog.
"The dorms are ridiculous. They are top-notch, off the chain, pretty insane," said Ballock, a 6-4 combo guard who will likely miss his entire junior season following Sept. 28 surgery to repair a torn labrum in his shoulder.
The 16 current Jayhawks moved into their new $12 million home with 17 students not affiliated with basketball (along with a resident assistant) last week.
"There's three floors. The first floor ... there's a kitchen. If family members come in, they can cook food in there," Ballock said. "There's a halfcourt basketball court. They just painted the Jayhawk (on floor) so we couldn't go in there.
"Another floor there's a movie theatre, a (room with) a ping-pong and pool table. There's a barber chair in there so somebody can come in and cut their (players) hair before a game. On the top floor, there's a grill, an area you can chill, a fireplace, couch ... insane," Ballock exclaimed.
The first-team all-stater, who averaged 20 points, 6.0 rebounds and 3.0 assists per game his sophomore season at Eudora High, has received scholarship offers from KU, Iowa State, Indiana, Kansas State, Creighton, Missouri, Northwestern, UNLV and others. He competes for KC Run GMC and has attended the prestigious invitation-only Steph Curry camp the past two summers.
"I am open to everybody now. I like everybody now," Ballock said. "I'm not going to focus on a particular school. I don't know if I'm going to cut the list down to a final 10 or five or three. I'll commit whenever I feel it's necessary and whenever I feel comfortable with a school and coaches. Right now I'm just enjoying the process."
Since Ballock can't practice or play in games — he hopes to start shooting again at the end of November and start getting back in basketball shape in January — he might make some official campus visits this winter.
"I don't have any plans set now," he said. "I want to get out there and see as many programs as I can and go from there."
As far as the injury ... "I've been playing through pain the last two years. I always knew something was wrong. I figured it would go away or I'd keep icing it and make it feel better. I kept re-injuring it and re-aggravating it so I decided to get it checked out," he said.
"Once I got the MRI back and it said it was tore, it kind of hit me, 'This sucks.' Then about 12 hours later, I was, 'It is what it is; a lot of people have it worse than I do, so I really can't complain.'
"I'm going to do what the doctor says, rehab and do more work on my own. There's no timetable. Six months ... it could be 41⁄2, five or seven. If I was able to come back before sub-state, try to make a run at state and win it again, I'd definitely do that. I don't want to come back and injure myself again. I'll talk to my doctor and go from there."
He said the coaches of schools recruiting him have been supportive.
"They see it as a little setback," he said. "Brannen Greene had it (torn labrum in hip), just not in the shoulder. He came back and is doing well. All the coaches are cool about it. They say, 'You'll just come back stronger.'''
More like this story on KUsports.com