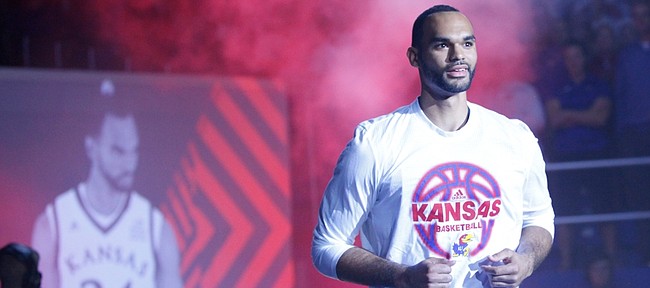 Basketball notebook. ...
Kansas University's Perry Ellis, Frank Mason III, Wayne Selden, Jr., and Sviatoslav Mykhailiuk have been named to three position-based watch lists, the Naismith Basketball Hall of Fame announced Tuesday.
Ellis, a senior from Wichita, is on the Karl Malone Award watch list for the country's top power forward. Other Big 12 players on the list are Baylor's Rico Gathers and Taurean Prince, Iowa State's Georges Niang and Oklahoma's Ryan Spangler.
Mason, a junior from Petersburg, Virginia, is on the Bob Cousy watch list for the country's top point guard. ISU's Monte Morris is also on the list.
Selden, a junior from Roxbury, Massachusetts, and Mykhailiiuk, a sophomore from Ukraine, are on the Julius Erving watch list for the country's top small forward.
Oklahoma's Buddy Hield is on the Jerry West watch list for the country's top shooting guard. Twenty players are on each of the watch lists. Each award will be narrowed to 10 in February and five in March. The award winners will be named April 8, 2016, at ESPN College Basketball Awards Show.
KU tapped third: KU is ranked No. 3 in the country in Gary Parrish's CBSsports.com preseason Top 25 poll announced on Tuesday. He actually stretched the rankings to include all 351 Div. I teams.
North Carolina is No. 1, followed by Kentucky, KU, Maryland, Virginia, Iowa State, Duke, Oklahoma, Wichita State, Gongaga, Michigan State, Villanova, Indiana, Cal, Arizona, UConn, Wisconsin, Utah, Baylor, Notre Dame, Miami, Vanderbilt, Oregon, SMU and Cincinnati. Texas is ranked No. 33, West Virginia 40, Oklahoma State 76, TCU 111, Kansas State 116 and Texas Tech 147.
Four Jayhawks made Parrish's list of the country's top 101 players. Ellis is No. 19, Cheick Diallo No. 34, Mason No. 40 and Mykhailiuk No. 101.
Bolden update: Marques Bolden, a 6-10 senior forward from DeSoto (Texas) High School, who is ranked No. 16 nationally by Rivals.com, tells Jayhawkslant.com his weekend visit to KU "was great. I would say that the visit went much better than I expected going into the visit."
Bolden has visited KU, Kentucky and Duke. He is pondering returning to Kentucky on Friday and Duke on Saturday for their season-opening hoops celebrations. He will visit Oklahoma on Oct. 23.
Herard update: Schnider Herard, a 6-10 senior center from Prestonwood Christian Academy in Plano, Texas who is ranked No 34 nationally, visited KU last weekend and has also made trips to Mississippi State, Purdue and Texas Tech. He has canceled an upcoming trip to Cal.
Herard's mentor, Derrick Shelby, says Herard had "a very good trip," to KU. Herard will make a final visit to a yet-to-be-determined school before announcing his choice.
"Schnider still has one more official visit that he wants to take. We're trying to figure out where that's going to be," Shelby told Jayhawkslant.com. "The thing about Schnider, being where he's from (Haiti), he's never had the opportunity to do this type of stuff, so he definitely wants to see it through. We are not going to visit California, but there will be one more visit."