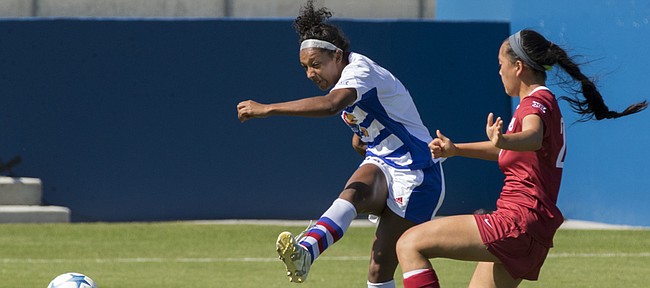 Kansas University senior Ashley Williams knew she had missed two golden opportunities to give KU's soccer team a first-half lead Sunday against Oklahoma, but she more than made up for it in the game's closing minutes.
Williams broke a scoreless tie in the 89th minute for her third goal of the season to help the Jayhawks slip by the Sooners, 1-0, at Rock Chalk Park.
"I was pleased for Ashley, because in the first couple minutes of the game, she probably had the best chance of the game," KU coach Mark Francis said. "So for her to come back in the end and not look that frazzled was tremendous."
Williams was on the receiving end of two well-played through balls from senior midfielder Liana Salazar in the sixth and 21st minutes, but fired the first one wide right and did not to get a clean shot on the second chance. The senior forward from Albuquerque, New Mexico, had those missed opportunities in the back of her mind when she took a long pass from freshman Grace Hagan in the attacking third, and the third time was a charm for Williams, as she sent the ball past OU goalie Kassidie Stade from 10 yards out.
"She (Salazar) had amazing passes to me early in the game, and I felt like I owed her a goal," Williams said. "Her balls were on a platter to me, so I was glad I got to finish at the end."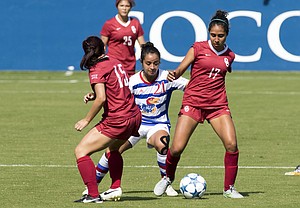 While Hagan and Williams led Kansas offensively — combining for seven of the team's 13 shots — sophomore goalkeeper Maddie Dobyns and the KU backline held the fort defensively, with the Jayhawks' fourth shutout in the last five games. Juniors Aurelie Gagnet and Morgan Williams and sophomore Kayla Morrison have settled in at their positions after there was some turnover on the backline during nonconference play.
Dobyns made six saves, but still deflected much of the credit for the Jayhawks' defensive success to the defenders in front of her.
"We had to make some changes at the beginning of the season, but I think our three backs are extremely strong," Dobyns said. "Even with putting Anna (Courtney) in, we have people that can come in. We all just work together so it works, clicks."
The win for the Jayhawks (8-5-1 overall, 3-1 in the Big 12) was their sixth in the last seven games and snapped the Sooners' (8-5-2, 1-1-2) seven-game unbeaten streak. The last five matchups between the Jayhawks and Sooners have been decided by one goal — including 1-0 and 2-1 victories for the Sooners in a six-day span late last season.
"It's nice for us to do that, especially after what happened last year," Francis said. "They're a good team. I think they're still going to be playing come postseason. Hopefully for us now that we've beaten them, they'll go on and win some more games and help us in our RPI."
Although the Jayhawks were excited about the late goal from Williams to give them the victory, their focus was already geared toward a matchup with No. 4 West Virginia on Friday. When learning of WVU's 4-1 road victory over Texas Tech on Sunday during the team's postgame stretch routine, junior midfielder Jackie Georgoulis' jaw dropped in disbelief. The Mountaineers (12-2-2, 3-0-1) have not lost since a 2-1 setback to Virginia Tech on Aug. 23, but Dobyns is confident that the Jayhawks will give them all they can handle.
"Obviously, they are a really strong team, but I think we've shown that we are, too," Dobyns said. "I think we can hold our own against them."
KU and WVU will square off at 7 p.m. Friday in Morgantown, West Virginia.