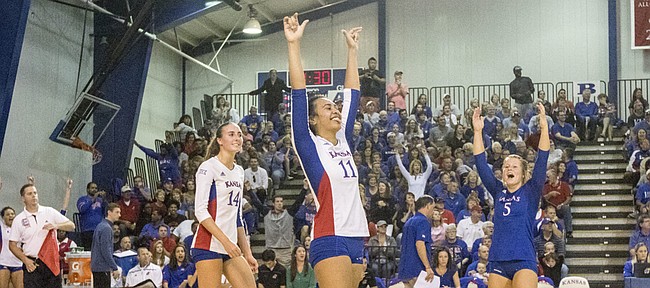 If, a few months ago, somebody would have told Kansas University volleyball outside hitter Tiana Dockery the Jayhawks would win 17 straight matches to open her senior season, her reaction would have been ...
"Hell yeah!" the 5-foot-10 Richmond, Texas native said after the Jayhawks rolled to a 25-20, 25-17, 25-21 victory over Iowa State on Saturday afternoon in sold-out Horejsi Center.
"I mean, we've been working really hard starting from this spring when we went to Europe (as team) and the summer (workouts on campus). It's been a grind pretty much," added Dockery, who blasted a team-leading 12 kills.
No. 10-ranked KU (5-0), which is a half game ahead of Texas (4-0) for first place in the Big 12, joins University of Southern California as the only undefeated teams in the country. Fourth-place Iowa State (10-6) fell to 3-2 in the Big 12, a half game behind third-place TCU (4-2).
"We needed that ... to play a team of that level. Now that gives us a little separation between Texas and us and the rest of the league (with everybody else having at least two losses)," KU coach Ray Bechard said.
"We've got a lot to work on. But certainly it's the kind of start you can only dream about."
KU on Saturday tried to keep the ball from All-America libero Caitlin Nolan, who had 11 digs in the first set, but none in the second and five in the third.
"Yes, because she is amazing," Dockery said of the senior from Southlake, Texas. "Iowa State has had some really good liberos. I forget the (name of the) girl my freshman year. She was amazing. They just stack 'em up."
Noted Bechard: "There are certain angles you can't get around it (hitting it to her). As much as we could, we were trying to go somewhere else. She's good."
Iowa State, which will play host to KU on Oct. 28, did jump to a 4-1 lead in the opening set, causing some alarm.
"I thought the first five points dictated how the match was going to be played. We got outworked," Bechard said. "We hadn't seen a team that dug so well and transitioned well. We rose to what was necessary to manage that (and grab 6-5 lead).
"We had good balance offensively. It might not have been a thing of beauty, but we ground it out, dug balls and won the majority of the big points. We had five aces to seven service errors. I like that ratio a lot. We served well. It was a good effort against a good team," Bechard added.
KU's Kelsie Payne had nine kills, Janae Hall eight, Madison Rigdon six and Tayler Soucie four. Ainise Havili had 33 assists.
"What Payne is doing now is (by) drawing so much attention to her, she is opening things up for everybody," Bechard said of the sophomore hitter from Austin, Texas.
The match ended on a light note. Bechard joked with junior libero Cassie Wait, whose serve wound up winning the final point of the match.
"She was supposed to drive the ball deep, but she mis-hit the serve. She kind of threw a knuckleball instead of her fastball," Bechard said. "It was kind of funny how it barely cleared the net. We ended up with a good result on that point."
KU will meet Baylor at 7 p.m. Wednesday in Waco, Texas.
More like this story on KUsports.com