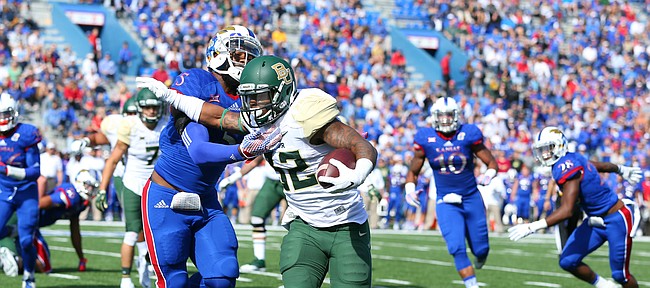 For exactly five minutes and 33 seconds of Saturday's 66-7 mismatch in front of a crowd of 25,910 at Memorial Stadium, the Kansas University football team hung in there with third-ranked Baylor.
Nobody expected it to last. And it certainly didn't. But, with true freshman Ryan Willis starting at quarterback and a couple of freshman wide receivers making key catches on KU's opening drive, the Jayhawks sure felt good about what they were able to do against one of the nation's most talented and devastatingly dangerous teams in the early going.
"We expect to make those plays, so it didn't come as a shock or anything," said KU senior Taylor Cox of his team's nine-play, 74-yard drive that tied the game at 7 with 9:27 to play in the first quarter. "But it definitely got us excited."
The good feels and shock-the-world dreams were short-lived for Kansas (0-5 overall, 0-2 Big 12), which managed just 60 yards in 31 plays the rest of the first half after that opening series.
Photo Gallery
KU football v. Baylor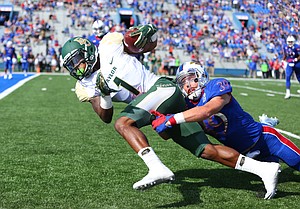 Images from Saturday's game between the Jayhawks and Bears at Memorial Stadium.
From that point on it was all Baylor, as the Bears (5-0, 2-0) rolled, raced and rumbled their way to the highest point total against a KU defense since Oklahoma State scored 70 in 2011.
Such lopsided outcomes are certainly nothing new for Jayhawk fans. Georgia Tech (2011) and Texas (2005) also reached 66 points against a Kansas defense in the recent past, and top-ranked Nebraska lit up the Jayhawks for 67 points in 1983, while No. 1 Oklahoma hit Kansas for 71 points in 1986.
But, even by KU standards, the cruel specifics of Saturday's setback were a bit eye-opening. Amazingly, Baylor's 644 yards of total offense marked just the second highest total against Kansas this season. Memphis, which blasted the Jayhawks 55-23 in Week 2, racked up 651 yards.
Podcast episode
Following a 66-7 loss to Baylor, first-year Kansas football coach David Beaty meets the media to discuss the rout, the play of KU's true freshman quarterback Ryan Willis, an early decision to punt and much more.
What's more, Baylor's offensive total marked a season-low for the Bears, who entered Saturday averaging 745 yards per game.
"When you play a team like that you kind of get to the point where, on their first road game, you're hoping they're not on their game," KU coach David Beaty said. "But they were on their game."
Behind quarterback Seth Russell's 18-of-27 passing day for 246 yards and 3 TDs and Shock Linwood's 111-yard first quarter on the ground, the Bears scored points on eight consecutive drives to open the game and built a 52-7 halftime lead that made the second half little more than a formality.
"That hurts," KU safety Fish Smithson (9 tackles) said of the 45-point halftime deficit. "Even if you give up 50 points in a game that hurts."
Added senior Ben Goodman, who was asked what thoughts floated around the KU locker room at halftime: "Just go out there the second half and try to make a difference and not let 'em get past 52."
Baylor punted just once on Saturday — with 5:00 remaining in the fourth quarter — and the only other Baylor drives that ended without points came on a muffed punt, time expiring at the end of the first half and a missed field goal in the third quarter.
With the outcome, and even many of the specifics, of Saturday's game somewhat expected, most of the focus for Kansas was on the play of Willis, the true freshman from nearby Bishop Miege High who filled in for injured starter Montell Cozart.
The rookie, who made his first start and threw the first touchdown pass of his college career but was not available to speak to the media after the game because of his freshman status, looked sharp at times and like a first-time starter at others.
He finished 20-of-36 passing for 158 yards and added an interception and a fumble. But it was his demeanor, poise, confidence and competitiveness that the Jayhawks wanted to talk about most after the loss.
"I like the kid," Beaty said of his young QB. "I've said it before, I really like him. I like his demeanor. I like the fact that he loves to play football. I mean, you'd be surprised how many people in this world sometimes play the game and they don't love it. I mean, he loves it, and it's refreshing to be around a guy like that."
Added Cox: "He's his own guy. We all have a lot of confidence in him and I think he has a bright future here."
Willis made some solid throws down the field — one to Jeremiah Booker on a third-and-17 on the opening drive and another on the very next throw, a 36-yard touch pass to Steven Sims Jr. that tied the game — and also showed that he was not afraid to scramble and fight both for yardage with his feet and to keep passing plays alive behind the line of scrimmage. He also was sacked twice and threw behind receivers on a couple of occasions.
Regardless of the ratio of good plays to bad, Beaty seemed most thrilled that Willis was able to procure quality experience against a top-notch team in his ever-expanding quest to become KU's QB of the future.
"You can have all the money in the world, but you can't buy experience," Beaty said. "He's gotta go get that. And I thought today was a great start for him."
Kansas was not the only team that played a true freshman at quarterback on Saturday. Baylor's Jarrett Stidham, who hails from Stephenville High, where BU coach Art Briles made a name for himself, handled the second half snaps for the Bears. Tossed in there with several other second- and third-string players throughout the second half, Stidham led the Bears on two second-half scoring drives. The first a 37-yard TD pass to Ishmael Zamora with 8:03 to play in the third quarter, and the second a one-play drive, where Stidham hit Davion Hall with a softly thrown 30-yard TD pass over the top of the Kansas defense. That score pushed Baylor's lead to 66-7 with 6:16 to play in the third quarter and the Bears let their defense and rushing attack close out the game from there.
A few Baylor coaches left the press box for the sideline midway through Saturday's third quarter. A couple of Baylor players, most notably wide receiver Corey Coleman (108 yards and 2 TDs on 7 receptions) and defensive end Shawn Oakman, were seen clowning around with some of the few KU students who stayed until the end of the game. And many of Baylor's starters, who only played about a half in this one, had their pads off long before the final horn sounded.
That's life, though, according to Beaty, who had no animosity and complete respect for the Baylor program.
"It is a great opportunity to go out there and play against some of the best in the country," Beaty said. "And whether we want to give them credit or not, I know (our) guys are looking over there going, 'You know what, that's where we want to get to.'"
— See what people were saying about the game during the KUsports.com live blog.
---
More news and notes from Kansas vs. No. 3 Baylor
---
More like this story on KUsports.com