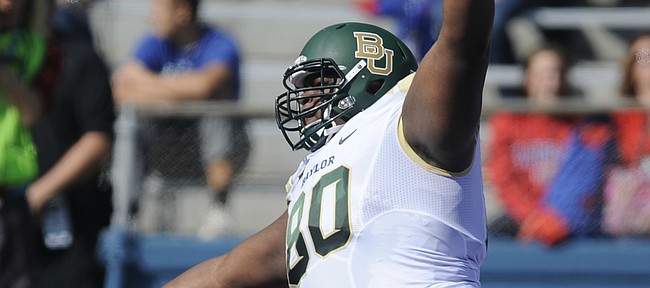 Football's biggest eligible receiver walked into the room inside the southeast corner of Memorial Stadium used for the visiting team's post-game press conferences.
LaQuan McGowan, Baylor's 6-foot-7, 410-pound tight end used primarily as a blocker, eyed the metal folding chairs in front of the table where he would sit.
"Might have to put these chairs together," McGowan said. That drew a laugh, but he just might have been playing up his size to fuel a competitive advantage, following Baylor's 66-7 romp over Kansas.
He quickly answered when asked what he considered to be the biggest misconception about him.
Photo Gallery
KU football v. Baylor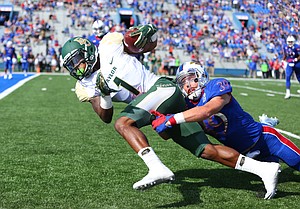 Images from Saturday's game between the Jayhawks and Bears at Memorial Stadium.
"People think I'm slow," McGowan said. "Well, compared to smaller guys, yeah, I'm slow. When you put me up against big guys, I'm just as fast as the next guy."
Just as fast, and 100-plus pounds heavier.
Podcast episode
Following a 66-7 loss to Baylor, first-year Kansas football coach David Beaty meets the media to discuss the rout, the play of KU's true freshman quarterback Ryan Willis, an early decision to punt and much more.
McGowan, lined up in the backfield as a blocking back in the second quarter, ran straight ahead after the snap, found himself all alone at the 11, caught the pass and took it into the end zone for an 18-yard touchdown on his first catch of the season.
Kansas senior safety Michael Glatczak, giving up 137 pounds to McGowan, charged from the end zone toward the modern-day Refrigerator Perry and tried to take him out low. McGowan stepped left and was tripped up by Glatczak's glancing blow that sent the tight end falling forward. McGowan's momentum from the hit spiraled him into an unintentional summersault.
"I told myself if he stays up high, I'd run him over," said McGowan, a native of Amarillo, Texas. "If he went down low, I'd either hurdle him or side-step him. I'm not very good at hurdling, so I thought I'd side-step him."
The play moved McGowan up the sports-celebrity ladder he first appeared on with an 18-yard TD reception vs. Michigan State in the Cotton Bowl.
Several KU players approached McGowan after the game.
"They just come up and congratulated me," McGowan said. '(Said) nice touchdown.' Even some of their fans were calling my name wanting to talk to me. It's fun. People enjoy seeing somebody who's not normal do stuff that normal people do. Nobody abnormal's scoring touchdowns right now, except for me."
The only thing abnormal about the humble, friendly Bear is his size. He said he was getting "anxious" to catch his first pass and added, "you never know when it's going to come. One play I might be running up hitting you in the face. The next play I might be slipping right past you and catching a touchdown. It always keeps you on your heels. You just never know."
McGowan wears a size 20 shoe, so it shouldn't be difficult to hear him coming, but by the time KU spotted him, it was too late.
— See what people were saying about the game during the KUsports.com live blog.
---
More news and notes from Kansas vs. No. 3 Baylor
---
More like this story on KUsports.com