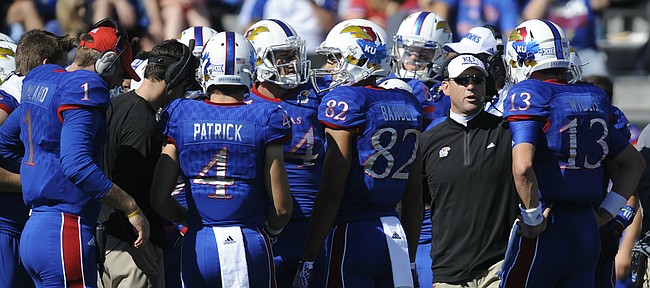 For the second week in a row, a fourth-down decision early in the game was a part of Kansas University football coach David Beaty's postgame press conference, following Saturday's 66-7 loss to Baylor at Memorial Stadium.
Unlike last week, when Beaty's decision to punt on fourth-and-short against Iowa State instead of trying a long, game-tying field goal seemed to steal some momentum from the Jayhawks, Saturday's decision to punt on fourth-and-short instead of going for a first down probably did not have much bearing on the outcome of the game.
Still, for a winless team playing as a 46-point underdog, Beaty's decision to kick instead of going the more aggressive route was at least worth hearing out.
"Not there," said Beaty when asked if he thought about going for it on fourth-and-three from the Baylor 46 instead of punting the ball back to the Bears with Kansas (0-5 overall, 0-2 Big 12) trailing 14-7 and 6:00 remaining in the first quarter. "We were trying to give our defense some good field position again and we were able to do it a little bit better this week than we did last week. We were a little bit better. We weren't great, but we were a little bit better."
Photo Gallery
KU football v. Baylor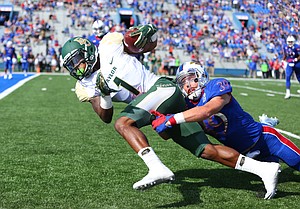 Images from Saturday's game between the Jayhawks and Bears at Memorial Stadium.
Although Baylor (5-0, 2-0) is known throughout college football for its high-powered offense, Beaty said the Bears' defense was pretty stout, as well.
Podcast episode
Following a 66-7 loss to Baylor, first-year Kansas football coach David Beaty meets the media to discuss the rout, the play of KU's true freshman quarterback Ryan Willis, an early decision to punt and much more.
"A lot of it has to do with who you're playing and where you think you're going to have your opportunities to make it on those downs," Beaty said. "They did a dad gum good job against us on fourth down today. We had fourth-and-short sticks (twice) and we didn't get a first. That's very disappointing. But take my hat off to them. They stopped us. But we've got to be better than that."
This and that...
The Jayhawks won Saturday's opening coin toss for the first time this season and deferred their choice to the second half. Baylor elected to receive the opening kickoff.... Junior cornerback Marnez Ogletree made his first career start in place of Brandon Stewart, who was out with a groin injury..... Montell Cozart (shoulder), Damani Mosby (elbow) and Deondre Ford (thumb) also missed Saturday's game.... Senior walk-on, Michael Glatczak led KU with a career-high 10 tackles.... KU is now 0-6 all-time vs. Baylor coach Art Briles.... Temperature at kickoff was 59 degrees, under sunny skies with winds of 7 mph out of the south.
— See what people were saying about the game during the KUsports.com live blog.
---
More news and notes from Kansas vs. No. 3 Baylor
---
More like this story on KUsports.com