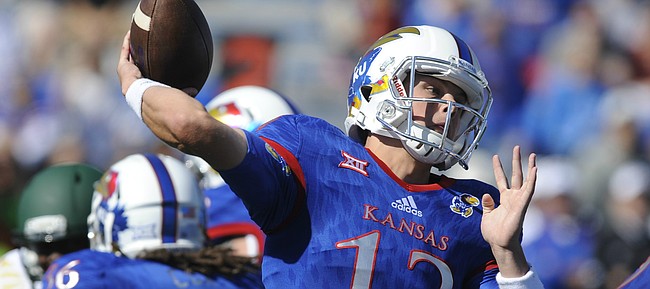 During and after Baylor's 66-7 rout of Kansas University in Memorial Stadium, Bears coach Art Briles and his players, not looking to embarrass the hosts on the scoreboard or with words, met their goals of winning, resting starters for much of the game and heading home healthy and fresh.
If the starters had played the whole way and the play-calling remained aggressive through all four quarters, 100 points would have been in play for the nation's No. 3-ranked team.
The players, showing they follow coaches well, referred to Kansas as a "good football team." Briles referenced Robert Griffin III's near-loss to Kansas in 2011 and the Jayhawks' near upset of TCU last season as reasons to take KU seriously.
Nice, classy things to say, even if some of the words were spoken with fingers crossed.
Photo Gallery
KU football v. Baylor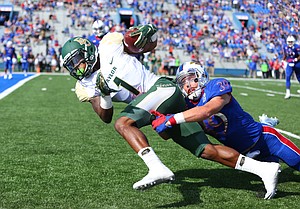 Images from Saturday's game between the Jayhawks and Bears at Memorial Stadium.
Yet, when asked for their impressions of KU's true freshman quarterback Ryan Willis, Briles and nickelback Travon Blanchard didn't have to watch their words. All they had to do was speak the truth.
"I was really impressed with him," Briles said with a little extra energy in his voice. "I thought he was really good. He made some really, really nice throws and kept his composure. If I was a Kansas Jayhawk, I'd be a little bit excited. I think the guy's really good, looked real good today."
Podcast episode
Following a 66-7 loss to Baylor, first-year Kansas football coach David Beaty meets the media to discuss the rout, the play of KU's true freshman quarterback Ryan Willis, an early decision to punt and much more.
When he took the field for his first snap as a starting quarterback, Willis already was behind on the scoreboard, 7-0.
The drive looked to be petering-out when Willis was sacked for a loss of seven yards, setting up a third-and-17 from the KU 42.
Then the true freshman QB threw consecutive beautiful throws to a pair of true freshmen. He hit debuting Jeremiah Booker for 22 yards to move KU to the Baylor 36. From there, Willis put a 36-yard TD throw right on the money to Steven Sims Jr.
Those two plays gave a hint of reality to the dream of a better future that Kansas football fans always carry around with them, and the scoreboard showed a 7-7 tie.
"Started good with our opening drive and then Kansas comes back and answers and then we're thinking, 'Here we go,' because I've been here when it was 'here you go,'" Briles said, referencing his team's 31-30 victory at Kansas in 2011. 
First-year Kansas head coach David Beaty coached wide receivers on Turner Gill's staff that season and gained a verbal commitment from quarterback Seth Russell. Gill successor Charlie Weis did not retain Russell, who bolted to Baylor. Russell completed 18 for 27 passes for 246 yards and three touchdowns Saturday before heading to the bench for the second half, with Baylor up 52-7.
Weis gained a commitment from Willis and Beaty retained him. Willis played better than his statistics (20 for 36, 158 yards, one touchdown, one interception) in trying to lead undermanned KU vs. Baylor's underrated defense.
"He performed nice, especially against a really good defense," Blanchard said. "We knew that they had a true freshman quarterback and one of the receivers was out, so we were expecting a lot of quick passes, something to get his confidence going. I believe he performed really good against a really good defense."
Listening to Briles explain how he is able to build huge, early leads and make the following week's game the priority by resting players, shined a light on why Kansas is at the other end of lopsided games.
"When you've got guys who are old, and we've got a lot of those guys, fourth-and-fifth-year guys in critical positions, when those guys are sharp and they're mentally right and they're focused in and they're determined, and they understand what's at stake and they understand what it takes to compete at the high level, then you've got a good chance to win," Briles said.
Kansas simply doesn't have those guys, and the option of developing football players with a microwave approach simply doesn't work. It will take a few consecutive high school-heavy recruiting classes loaded with hidden gems such as Sims and Booker, plus years of refining technique and shaping bodies for Kansas to become competitive. 
If Willis' development continues on the right path, suddenly quarterback looks deeper than most positions on the team. Aside from Willis, Carter Stanley will be a red-shirt freshman next season and Michael Cummings potentially could be a sixth-year senior. Montell Cozart, sidelined with a sprained left shoulder, has the potential to play a prominent role for KU at more than just quarterback. He has the speed and size to be evaluated at wide receiver, cornerback and safety and a terrific team-first attitude that guarantees he'll give it his best shot wherever the team needs him.
It sounds strange to say about a team that lost by 59 points, even though the opponent kept the foot on the brakes during a 14-0 second-half, but Saturday, two, three years down the road seemed a little less rocky than at any point this season.
Willis and the young receivers instilled a glimmer of hope.
"The thing with QB's is the more starts they get and the more reps they get, it's kind of like a guy getting ready to go in the NFL draft, everybody starts looking for what's wrong with him, instead of what's right," Briles said when discussing Willis. "He certainly was right today. He was really, really sharp."
Hope must start somewhere. If that happens to be during a 66-7 loss, well, hope beats hopeless nonetheless.
— See what people were saying about the game during the KUsports.com live blog.
---
More news and notes from Kansas vs. No. 3 Baylor
---
More like this story on KUsports.com