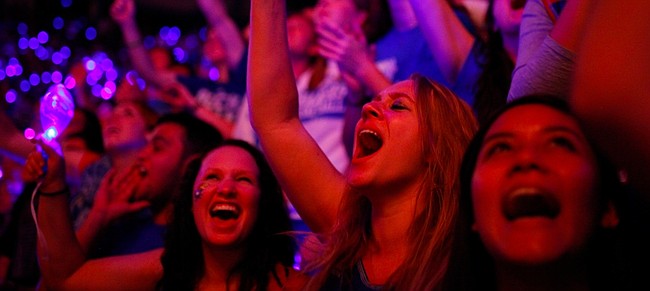 A short, 20-minute men's basketball scrimmage annually serves as the curtain-closing act in Kansas University's Late Night in the Phog production in Allen Fieldhouse.
The Jayhawks' play is normally so sloppy — coach Bill Self called it "brother-in-law ball" a year ago — that it tends to be one of the least-discussed aspects of the evening.
What normally steals the headlines is the dancing and acting skills of the Jayhawks in skits and videos, as well as the costumes of the participants.
As far as what to expect during the entertainment portion of the 31st-annual Late Night, set for 6:30 to 9:30 tonight in Allen ...
"I've got a couple moves I'm working on. I'm kind of a dancer. I might pull off some dance moves," KU sophomore guard Devonté Graham said. Doors open for students at 4:30 p.m., and the general public at 5. Admission is free.
"Svi (Mykhailiuk) has become a better dancer," Graham added, asked to comment on his teammates' skills. "Cheick (Diallo) is not a dancer. Hunter (Mickelson) is not a dancer. I'm not too sure about Dwight (Coleby). B.G. (Brannen Greene) is not a dancer either."
Junior point guard Frank Mason III doesn't over-rate his own ability to boogie.
"I can't dance," Mason said. "Actually Jamari (Traylor) thinks he's the best dancer. I think Devonté is. We'll all do it. Whatever they want us to do, we do, hopefully something that's really nice," Mason added, alluding to the true spirit of the festive night.
Junior combo guard Wayne Selden, Jr., agreed Graham is "probably the best dancer. Jamari definitely thinks he's the best. Hunter can't dance, cannot dance."
Freshman Carlton Bragg has already tipped off the media to the fact he'll be playing the piano at some point in the show. Whether it's with a spotlight on him in a concert format or part of a funny skit ... that's not yet been revealed.
"I'm definitely looking forward to Late Night. I think it'll be the best one, especially since it's my last one," said senior forward Perry Ellis. "I'll go out there and have a good time with it. I haven't really been working on my dance moves. I'm not a big dancer. I have to bring it out during Late Night, though, so I'll try something and see what happens."
Junior guard Tyler Self has had speaking parts in Late Night skits before.
"I think Late Night is one of the most fun nights of the year," Self said. "I just remember the first one, how nervous I was to dance. I could have passed out. Looking back at it, it was one of the most fun minute-long dances I've ever done. It's fun every year. We always try to do something to spice it up. I'm not sure what it will be this year. I don't want to give anything away. It should be a fun night."
The players and coaches hope a certain segment of the crowd has the most fun of all. That is, the recruits who will be in attendance.
"It shows them what this whole place is like, just to embrace the whole atmosphere," senior guard Evan Manning said. "It's not even a game, but this place is usually full. People are dying to get in here and see us act like fools."
Senior high school prospects expected to be in the fieldhouse are: No. 2-ranked (by Rivals.com) Harry Giles, No. 5 De'Aaron Fox, No. 6 Malik Monk, No. 16 Marques Bolden and No. 34 Schnider Herard.
"It's a great opportunity for guys (prospects) to see that environment which would probably best suit them from a thought-process standpoint in picking a school," Self said, not referring to specific prospects in accordance with NCAA rules. "Guys want to know what it's like to play there on game day. That's really the one opportunity we have to show them before their senior year (begins)."
The recruits are ineligible to participate in one of the most-anticipated moments of the 2015 Late Night. One male and one female fan (high school graduates or older) will be randomly selected to each attempt two halfcourt shots. Should they make one of two attempts, Self will award a $10,000 check on the spot. If the contestant doesn't want to shoot, he/she can select anyone in the building who is not a current player or recruit, to shoot on his/her behalf.
"Brennan Bechard of our staff could shoot it for you. He's probably the best halfcourt shooter we have. Wayne Simien if he's in the stands. I heard Darnell (Jackson) is coming back. Or Aaron Miles could shoot. They've been instructed to try to make it. There's a pretty good chance they could hit one of 'em," Self added with a laugh.
"It should be fun. The biggest thing is for us is obviously our guys have gotten to the point where this is something they look forward to each and every year, and it's a great way to kick off our season, and also from a fan standpoint, and there's a chance I'm sure we'll have a recruit or two in the audience. It's a fun night for them to get a feel what Kansas basketball can actually be like."
Ellis, Diallo honored: KU senior forward Perry Ellis was named to the five-player preseason all-Big 12 team on Thursday with player of the year Buddy Hield of Oklahoma, Iowa State's Georges Niang, Baylor's Rico Gathers and Texas' Isaiah Taylor. KU's Frank Mason was honorable mention. KU's Cheick Diallo was preseason freshman of the year and ISU's Deonte Burton newcomer of the year.
Maui officials in town: On Saturday, Maui Invitational tournament sponsor Maui Jim sunglasses will be present at the bottom of KU's Campanile Hill prior to the 11 a.m., KU-Baylor football game. From 8:30 to 11 a.m., fans can learn how to win a trip to the Maui Invitational. Tonight at Late Night, Maui tourney officials will present the Jayhawks an eight-foot hand-crafted custom surfboard.
More like this story on KUsports.com