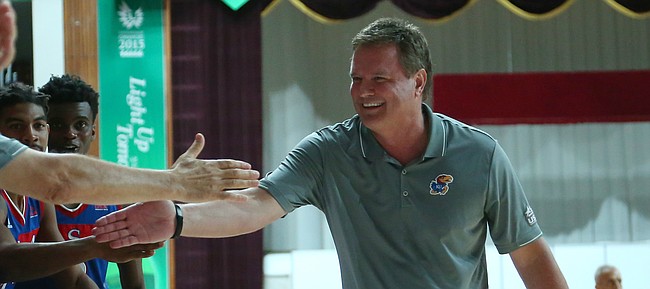 Kansas City, Mo. — Bill Self wore a tuxedo, not a sports coat, when he last entered The Midland Theater in the Power and Light District in downtown KC.
"Last time I was in this venue it cost me quite a bit of money because my daughter Lauren's wedding reception was here," Self, KU's 13th-year basketball coach, said smiling, Tuesday night at the Coaches Vs. Cancer season tipoff event. "It was a great venue for that (Aug. 16, 2014 event). It's a great venue for a multitude of events, including tonight's," Self added.
Self has attended all eight Coaches Vs. Cancer preseason fundraisers — the other locales were the College Basketball Experience next to Sprint Center and Municipal Auditorium.
Self spoke hoops with media members before taking the stage with host Bob Costas as well as former Missouri coach Norm Stewart, plus Kim Anderson (MU), Bruce Weber (Kansas State) and Kareem Richardson (UMKC). Wichita State's Gregg Marshall was ill and could not attend.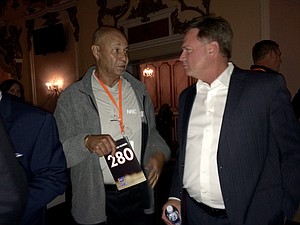 "I don't know if anybody looks great (at practice). I'd say Perry (Ellis) has looked the best so far," Self said of the Wichita senior who Tuesday was named third-team All-America by cbssports.com.
"Frank's (Mason) been fine; Devonté's (Graham) been fine. Svi (Mykhailiuk) and Brannen (Greene) have each shown flashes. All the bigs have shown flashes at different times, but nobody's playing great. It's hard to tell who is playing well when all you are basically doing is drills and halfcourt and not really playing yet," Self added.
He reiterated it should be at least a couple weeks before hearing any word on the eligibility of Cheick Diallo, a 6-9 freshman from Mali.
"To say where it is in the legislative process ... I think it's still in its infant stages," Self said, noting KU was still gathering academic information, including some from Diallo's homeland of Mali, to send to the NCAA Eligibility Center.
"If something were to happen and we not get a good outcome, I think we have every right to appeal that," Self said. "I think they are giving us an opportunity to present before they give an outcome."
Self was asked if the fact Diallo did well in summer school and is faring well in his first semester classes at KU would help his cause.
"You would think there would be a lot of stuff that could potentially help his case," Self said. "I don't know if coursework already done in college has anything to do with initial eligibility. If that does play a factor that will be one of our mitigating factors that would be very beneficial because he's done quite well. The problem is obviously with the school (Diallo's Our Savior New American). We don't know exactly what those problems are. We're trying to sift through it, get as much information for them to make a determination. They want us to do exactly what we are doing."
As to how Diallo is playing ... "He and Lagerald (Vick, freshman guard) are probably a little bit further behind than Carlton (Bragg, frosh forward) at this stage. That will all change in a week," Self said. "He just needs a few reps out there. Everything is so new to him right now that he has no clue on what he's doing. Give him a couple weeks to figure it out. I think he'll get caught up fast."
New digs are open: The Jayhawk players today will move into their new $12 million McCarthy Hall. "It passed inspection today and the guys will be moving in tomorrow. It's exciting," Self said. In all, 36 individuals will live in the hall: It breaks down to 16 basketball players and 17 students not affiliated with the hoops program. There's also beds downstairs for two guests and one for the resident adviser.
No conflict with Royals: Self is pleased the Royals are playing an afternoon playoff game Friday. Late Night in the Phog begins at 6:30 p.m. He's counting on the usual packed fieldhouse.
"We caught a break," Self said. "Go to the bar and watch our Royals and then drive on over to see us play," he added, smiling.
More like this story on KUsports.com