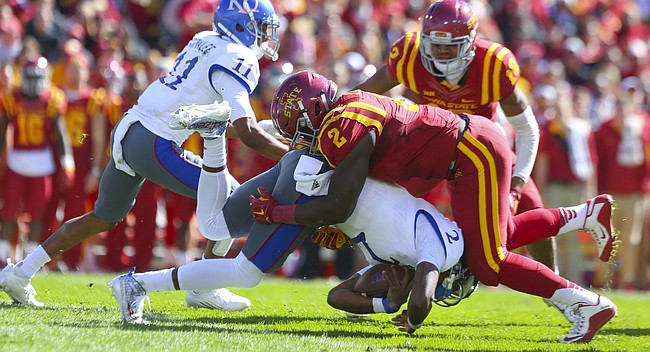 It seemed like this was the next logical step. And it was made official Monday, when Kansas University football officials announced that junior quarterback Montell Cozart was out indefinitely with a shoulder sprain.
It is Ryan Willis time at KU.
Cozart will not play this week vs. Baylor — 11 a.m. Saturday at Memorial Stadium — and will be reevaluated next week.
In addition, junior Deondre Ford, who started KU's loss at Rutgers but was knocked out of that one with a thumb injury, will miss the rest of the year and will have surgery in the near future to repair damaged ligaments in the thumb.
That leaves Willis as the only quarterback on the KU roster with any significant experience and even that is extremely limited.
Willis, who filled in for Cozart during the final few drives of last week's loss at Iowa State, finished 8-of-16 passing for 100 yards and showed some decent flashes during that stretch. Before that, Willis' only game experience came on the third series of the ISU game — a move that KU coach David Beaty said was part of the game plan to get him some work — and two plays during the season opener when Cozart was momentarily knocked out of that game.
Armed with that limited experience, the Bishop Miege High graduate will now be asked to lead the Kansas offense against the No. 3 team in the nation this weekend.
"Obviously, he's the next man up and his turn has come," Beaty said after the Iowa State loss.
The injuries to Cozart and Ford severely change the outlook of KU's depth chart at the QB position.
Willis, with all of his 20 or so snaps, slides into the No. 1 spot and junior T.J. Millweard, who has been off the depth chart most of the season and become known primarily as KU's holder, is listed as the No. 2 quarterback ahead of red-shirt freshman walk-on Keaton Perry, who is listed third.
The absence of true freshman Carter Stanley, who has not suited up for most of KU's games this seasons seems like a clear indication that the Vero Beach, Florida, prospect likely will red-shirt this season.
As for Willis, he connected on a couple of deep balls down the field against Iowa State last weekend and showed the zip on his passes that coaches and teammates have talked about since he arrived on campus. He also showed his inexperience by hanging in the pocket a little long at times, taking a couple of hits both in the pocket and on the run and being a little slow with his reads, which allowed the ISU defense to blow up KU's play call quickly.
All of that, however, is to be expected from a true freshman. And Beaty said both he and Willis were aware of it and already had discussed it.
"You learn the hard way pretty quickly," Beaty said after that loss. "He got hit one good time and he came to the sideline and he said, 'I know. I gotta get down.'"