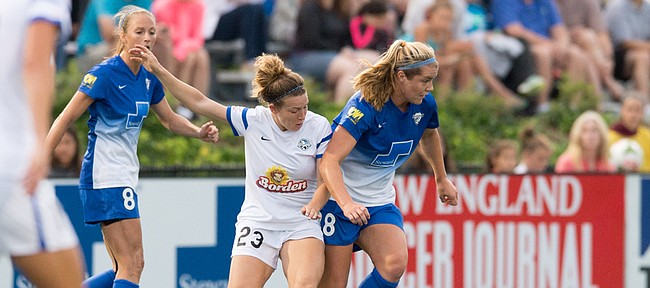 After helping FC Kansas City win its second straight National Women's Soccer League championship Thursday against the Seattle Reign, former Kansas University forward Caroline Kastor has had time the past few days to reflect on her first professional season.
Nothing came easy for Kastor in her rookie season. The former KU star — tied for second on Kansas' all-time scoring list with 26 goals — was added to FCKC's roster three games into the season as an amateur call-up and signed with the team on July 13.
"It's kind of a tough situation to be a call-up because you're not being paid. I reside in Lawrence because that's where school and work are," said Kastor, who is completing her master's degree at KU. "I was working and going to school, so I was definitely very busy."
Kastor appeared in eight games and logged 161 minutes with the Blues, including one start against the Boston Barriers just four days before the team offered her a contract for the remainder of the season. The contract offer came as even more of a surprise to the 23-year-old because four United States women's national team members — Becky Sauerbrunn, Amy Rodriguez, Heather O'Reilly and Lauren Holiday — were about to return to FCKC's roster after the World Cup.
"It was a little bit of a crazy ride. It got toward the end of July, and the national players were coming back, so I knew that that call-up period was ending," Kastor said. "I just didn't know what that meant because I was pretty sure they weren't allowed to have call-ups when they returned. Right before that game that they came back, I was offered a contract, so obviously it ended really well for me."
Although the return of the four national-team members pushed Kastor further down the bench and out of the regular sub role she had earned, the time spent on the practice field with some the world's best players greatly benefited the FCKC rookie. While it was Kastor's first season as a professional, it was Holiday's last; she officially retired after Thursday's NWSL championship match.
Kastor said "it was an honor to be a part of her (Holiday's) last game."
"Not only does she make you look good in practice by playing you these amazing through-balls and beautiful passes, but she's just a phenomenal enthusiast," Kastor said of Holiday. "She instills confidence in young players and takes them under her wing."
Gaining confidence was something Kastor said was crucial to starting her career at Kansas as well. Kastor scored three goals during her freshman campaign, but Kansas coach Mark Francis that there was a lot of room for growth in her remaining three years.
"He really forced me to kind of wake up," Kastor said. "He said, 'Kastor, I think you're just scratching the surface of the player you can be, like just barely scratching the surface.'"
Francis' hunch was right. Kastor had a breakout junior season, with 11 goals, and racked up several Big 12 and national honors.
"I'm thankful for the staff, academic staff, athletic staff and all of my teammates that helped me get to a point where I felt confident and started to delve into my potential as a player." Kastor said.
Kastor took a year off after completing her collegiate career at KU, but she did not show any rust while fighting for a spot on the FCKC roster. The Kansas alumna's hard work on the practice and playing fields did not go unnoticed by FC Kansas City coach Vlatko Andonovski and his staff. Kastor's contract expired at the end of the 2015 campaign, but Andonovski did not want to see her go.
"I was just told that they exercised my option for a contract next season. Some things can change, but that's good," Kastor said. "I wish I was more schooled in the process since it's really new to me, so I'll be working with an agent to make sure that I understand what is going on and all that. But right now, I'm just trying to enjoy the end of the season and the win."
More like this story on KUsports.com