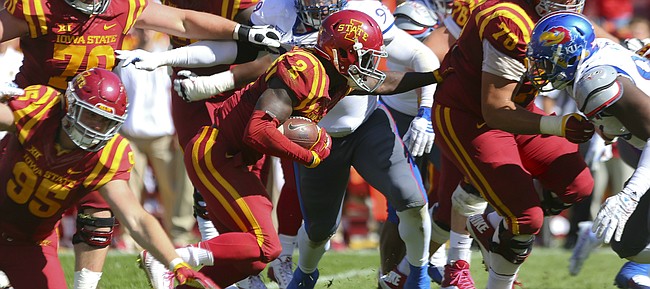 Ames, Iowa — Very few Big 12 Conference football teams are in need of any help on offense, but those that might be struggling in the run game likely just circled their game against Kansas University in the upcoming weeks.
Iowa State, which entered Saturday's 38-13 victory over the Jayhawks at Jack Trice Stadium averaging just 115 yards on the ground through its first three games, pounded its way to 243 yards on 37 carries and a 6.6 yards-per-carry average.
The Cyclones' rushing offense, which was led by Mike Warren's freshman record of 175 yards on 18 carries, accounted for 47.4 percent of Iowa State's total offense, more than doubled their season average and outdid Kansas' ground total of 38 yards on 33 carries more than six to one.
"You want offenses to resort to the pass," said sophomore linebacker Joe Dineen. "But if they don't have to then they won't. And you don't want them to just keep running the ball. It's always just like one little thing that causes it. Somebody's out of their gap and the ball always seems to find the missed gap. It happens in practice too. It happens all over. And that's where we need to really bear down and get to work and correct our problems."
Photo Gallery
KU football v. Iowa State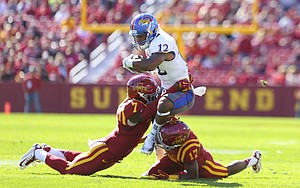 Images from Saturday's game between the Jayhawks and Cyclones in Ames, Iowa.
Given the fact that the Jayhawks (0-4 overall, 0-1 Big 12) are surrendering 252 rushing yards per game to opponents this season, KU coach David Beaty said his team knows what's coming.
"It wasn't surprising to me that (ISU) coach (Paul Rhoads) ran the football at us," Beaty said. "And they executed very well. We have to do a great job of playing technique, being assignment sound and then we've gotta get bigger and stronger so we don't get moved quite as much and those holes get smaller. We've got a lot of work to do. We're not there yet."
Added junior linebacker Marcquis Roberts: "Everybody's gonna try to come in and run the ball on us. We just have to stop it."
Willis gets extended action
After entering the game on KU's third offensive series — in a move that Beaty said was pre-planned — freshman quarterback Ryan Willis finished the game under center for the Jayhawks when starter Montell Cozart was knocked out with a shoulder injury late in the third quarter.
Willis, who had not played since taking two snaps in the Week 1 loss to South Dakota State, finished 8-of-16 for 100 yards and looked progressively more comfortable with each play.
"Obviously, he's the next man up and his turn has come," Beaty said of the Bishop Miege graduate. "We wanted to let him get in there and get some real world experience."
With junior Deondre Ford (thumb) sidelined for an unknown period of time and the extent of Cozart's injury not yet known, Willis quickly has become an important part of the KU offense, and several of his teammates already appear to be comfortable with that.
"He has a really live arm, a lot of velocity on his ball," senior and fellow Miege grad Tre' Parmalee said. "He's a young guy. He's still learning the game, but he's making his reads right, he's throwing the ball well and that's what we expect of him."
Mann ailing
Senior running back De'Andre Mann, who had been in a time share situation with junior tailback Ke'aun Kinner during recent weeks, played only a limited number of snaps on Saturday and finished with three yards on two carries.
"He's not hurt, he's not injured, he was sick coming into the game," Beaty said. "He was available, but it was one of those deals where throughout the week Taylor Martin practiced pretty good (and) there was some competition there."
Martin (4 carries, 11 yards) and Ryan Schadler (2, 5) filled in for Mann on a day when KU's running game struggled to just 38 yards on 33 carries.
"It's not just the O-Line up front," Beaty said of the back-to-back sub-par weeks. "It's our guys in the running game and the guys on the perimeter blocking well. It takes all 10, plus the guy carrying the ball to get that done."
This and that...
The Jayhawks lost Saturday's opening coin toss for the fourth time this season and received the opening kickoff after Iowa State deferred its choice to the second half.... Michael Zunica (fullback) and Chevy Graham (safety) made their first career starts.... Freshman offensive lineman Clyde McCaulley III wore number 83 and played tight end.... Junior safety Fish Smithson led KU with a career-high 13 tackles.... KU is now 2-5 all-time vs. ISU coach Paul Rhoads.... Temperature at kickoff was 51 degrees, under sunny skies with winds of 5-10 mph out of the east.
— See what people were saying about the game during KUsports.com's live coverage.
---
More news and notes from Kansas at Iowa State
---
More like this story on KUsports.com