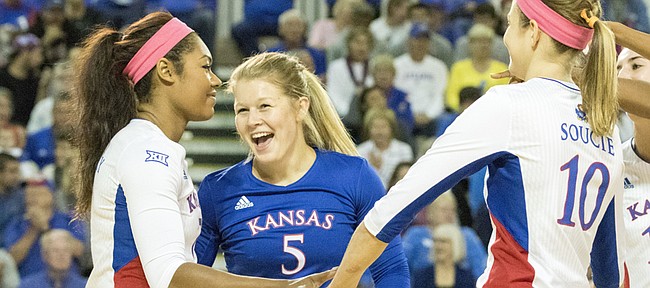 Kansas University sophomore outside hitter Madison Rigdon smashed a match-high 11 kills against no errors in the Jayhawks' 25-14, 25-18, 25-12 volleyball rout of West Virginia on Saturday afternoon in sold-out Horejsi Center.
"It's because of her. She's a great setter," Rigdon said, pointing to Ainise Havili, the country's leader in assists.
"I'm being so serious," Rigdon added, responding to smiles from fellow Texan Havili and media members who surrounded the duo after the Jayhawks improved to 15-0 overall, 3-0 in the Big 12.
Havili, a 5-foot-10 sophomore from Fort Worth, dished 35 assists on a day the Jayhawks ripped 41 kills against four errors.
"She is making good decisions, and we've got hitters that are putting the ball away," KU coach Ray Bechard said.
Tiana Dockery had 10 kills and two errors; Kelsie Payne had nine kills, no errors; Janae Hall six kills, no errors; and Tayler Soucie had four kills, one error. And, yes, Havili had a kill against no errors versus the Mountaineers (5-10, 0-3).
"She finds attackers and puts them in their best situation to be successful. She's the real deal," Bechard added.
Havili, who was honorable-mention All-Big 12 as a freshman, runs the show offensively for a No. 12-ranked KU team that leads the country in kills and assists and ranks fourth in hitting percentage. KU is one of four remaining unbeatens in the land, joining USC, Arizona State and Washington. USC and Washington play today, meaning just three will be left unblemished.
"We have a quick, fast, simple offense and a solid defense," Havili said. "We have a lot of fun playing. I'm pretty sure it shows."
Havili, who she started every match as a freshman, was not highly recruited in high school. She chose the Jayhawks over San Diego University, committing the summer before her senior year at Haltom High.
"She was late to the scene. We got a tip from somebody who said, 'This is going to be an elite recruit,'" Bechard said. "By the time she hit her senior year, she'd already committed to us. The club she played on, TAV, they won the national championship. She was the MVP. By then, we'd already gotten her committed. Everybody else is like, 'Why weren't we recruiting this kid?'"
Havili, who didn't receive a recruiting letter from hometown school TCU, calls KU "a perfect fit."
"I took a visit in the wintertime (junior year). It was freezing, but I remember driving around. The snow was on the ground. It was beautiful," Havili said. "Then I really like the coaching staff here. The facilities were great, the dorm situation great. The Big 12 is perfect for my family. They come to a lot of our games; a lot of our games are in Texas (like Wednesday's next match against Tech in Lubbock). That was a major part of why."
Regarding all the accolades she's receiving, Havili said, "I have a lot of people around me to help me out. I don't really think about it too much. I'm just glad to be here."
Glad to have her around are KU hitters Rigdon, Dockery, Payne, Hall and Soucie, who contributed to KU's astounding hitting percentage of .597 Saturday.
More like this story on KUsports.com