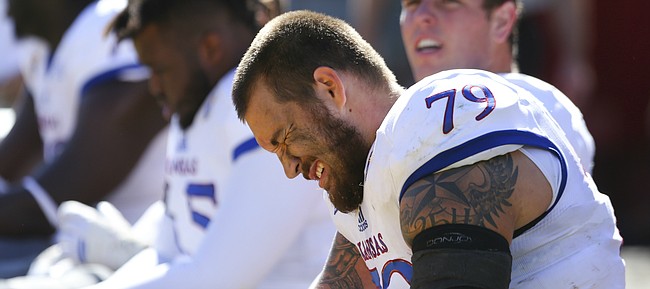 Ames, Iowa — If this is what the smartest college football team in America looks like, the rest of them must have the combined IQ of Lloyd Christmas and Harry Dunne.
Dumb and Dumber is not just a movie title any more. It also accurately and completely sums up the way the Jayhawks played Saturday at Jack Trice Stadium on their way to a 38-13 loss to Iowa State in front of a fired up and friendly ISU crowd of 55,837.
Since taking over last December, first-year KU coach David Beaty has hammered home his hope that, win or lose, his team would be the smartest team in America this season. So far, the Jayhawks (0-4 overall, 0-1 Big 12) have not been anything close to that, and Saturday's loss had nearly a dozen prime examples that demonstrate why.
From costly penalties at key times to bonehead mistakes, missed assignments and uncharacteristic shortcomings, the Jayhawks rolled out the red carpet for the Cyclones, who jumped out to leads of 17-0 at halftime and 31-6 en route to handing Kansas its 35th consecutive loss away from Lawrence.
Photo Gallery
KU football v. Iowa State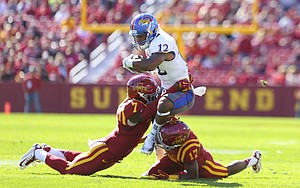 Images from Saturday's game between the Jayhawks and Cyclones in Ames, Iowa.
"I can handle us just getting whipped," Beaty said after the defeat. "It's hard for me when I look up and I see us making mistakes. That's disappointing."
Two of KU's biggest mistakes on Saturday either led directly to Iowa State points or took points away from the Jayhawks.
The first came on KU's opening drive of the game. After starting quarterback Montell Cozart moved the offense down the field with a series of short completions toward the sidelines, Beaty elected to go for it on fourth-and-one from the ISU 22 yard line. But a false start penalty on guard Bryan Peters quickly turned that into a fourth-and-six and, one snap later, Nick Bartolotta missed a 44-yard field goal.
Two hiccups for the price of one.
A few drives later, when Iowa State faced a third-and-four situation from the Kansas 14, the Cyclones did not even have to pick up the necessary yardage to keep the drive alive. KU sophomore Joe Dineen jumped offsides to give ISU (2-2, 1-0) a first down, and on the very next play Sam Richardson hit Allen Lazard with a nine-yard touchdown to put the Cyclones up 17-0 just before halftime. The final few plays of the drive might not even have been possible had freshman running back Taylor Martin not run out of bounds after a four-yard gain on a third-and-21 play with 1:50 to play in the half.
Earlier, Richardson also benefited from some miscommunication on the left side of KU's defensive line, where Ben Goodman crashed to the running back on the fake dive and no one rolled down to seal the end, which allowed Richardson to walk in for a touchdown that put ISU ahead 10-0.
These miscues might seem like little, perhaps even nit-picky, mistakes. But when tossed together during the course of a couple of quarters or a complete game, they turn an already incredibly tough task into a nearly insurmountable one.
"We shot ourselves in the foot a lot today," said KU senior Tre' Parmalee, who scored the Jayhawks' lone offensive touchdown of the game on a 47-yard pass from Cozart midway through the third quarter. "When you do that, it limits your chances of winning."
Added Beaty: "When it happens, what happened to us today is the result.... We've gotta better than we were today."
Other failures that cost Kansas in Saturday's Big 12 opener included:
• A momentum-stealing missed extra point by Bartolotta following the Parmalee touchdown, about which Beaty said, "It's difficult to deal with. There's no doubt." To make matters worse, KU's kicking woes continued on the very next play when Matthew Wyman's kickoff sailed out of bounds, giving ISU the ball at the 35.
• Cozart, who finished 15-of-21 passing for 150 yards and a touchdown, missed three deep balls down the field — including one in which freshman Steven Sims Jr., had two steps on the defender and would've scored had he caught it — did not see a wide open Shakiem Barbel over the middle during a second half scramble and threw behind running back Ke'aun Kinner (11 carries for 46 yards) in the flat, which hit the brakes on yet another Kansas drive.
• A sequence in which Cozart was sacked and injured (left shoulder sprain) during one third-quarter possession and his replacement, Ryan Willis (8-of-16 for 100 yards in limited action) was sacked for a nine-yard loss on the very next play.
• Parmalee muffing a punt after not calling for a fair catch late in the game.
All of these specific examples say nothing about the series of missed tackles that continued to plague the KU defense on Saturday.
As with any game, there were a few positives for the Jayhawks. Junior linebacker Marcquis Roberts' pick-six, 83-yard interception return for a touchdown in early in the fourth quarter will wind up on KU's postseason highlight film. Junior Greg Allen picked up his second interception of the season in the fourth quarter. And freshman Tyrone Miller Jr., continued his torrid start to the season with his second consecutive double-digit tackle game, outdone only by Fish Smithson's 13 stops.
But despite the handful of individual highlights, six three-and-outs from the Kansas defense and some encouraging moments early (KU trailed just 3-0 after one quarter) and late (when Willis connected on passes of 14, 29 and 38 yards while also rushing for a 13-yard gain), nobody in the Kansas locker room was in the mood to talk about silver linings.
"There were some positive things in there," Beaty conceded. "But we've gotta stop living off of winning these little battles. We need continue to work forward on the name of the game, which is winning."
— See what people were saying about the game during KUsports.com's live coverage.
---
More news and notes from Kansas at Iowa State
---
More like this story on KUsports.com