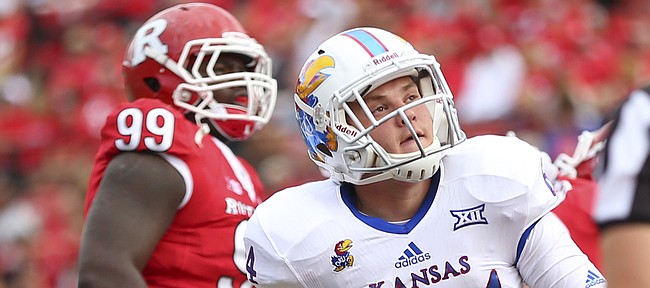 It's not every year that a walk-on gets cut from a college football program and, four months later, finds himself suiting up and starting for that same program.
But that's exactly how the past five months played out for Kansas University sophomore Jordan Goldenberg.
Told by special-teams coordinator Gary Hyman at the end of spring practices last April that it wasn't looking good for him to be a part of the team when fall camp rolled around, Goldenberg did what any good long snapper would do when faced with such a dilemma. He snapped. A lot. And he never quit snapping until he was back in Hyman's office a few months later hearing a much different tune.
"I was a little disappointed," Goldenberg admitted. "But I thought I could take it one of two ways: I could either mail it in and kind of lick my wounds, or I could turn it around and make it into positive news."
Goldenberg, a 6-foot, 214-pound former offensive lineman from Parkway Central High in Creve Coeur, Missouri, chose the latter and never let himself get too far away from KU football. He worked out with teammates all summer, snapped whenever he could and maintained the belief that, one way or another, his hard work was going to pay off.
"I just wanted to help the Kansas football program," said Goldenberg, who initially joined the Jayhawks in January of 2014 after being told before the 2013 season that the walk-on program was full. "That was my main focus. I worked out real hard, snapped pretty well all summer, and things fell in line. I got an opportunity and ran with it."
Finding that opportunity was the biggest key to Goldenberg's success story. Sure, it was important for him to stay in shape, get stronger and become more consistent with his snaps. But if not for the opportunity, which came when former KU long snapper Reilly Jeffers elected to leave Kansas for an academic opportunity elsewhere and fellow KU long snapper John Wirtel came down with a temporary illness that kept him out of practice for a few days, all of the hard work in the world would not have led Goldenberg onto the field this fall.
Initially, Hyman was so impressed with the work the guy he calls "Jordo" put in that he talked to him about bringing him back to the team in some sort of practice-squad capacity. It never came to that.
Instead, Jeffers left, Wirtel was sidelined, and, just like that, Goldenberg became a pretty important player for this young Kansas team.
"It was interesting," Goldenberg said of his summer. "I was still on the team, but it was just looking doubtful for the fall. I just tried to stay positive and think, 'Maybe this means I need to work that much harder. Maybe this means I need to get that much better.' Luckily, it worked out. So far I've been doing all right, but I'm not satisfied. I just want to keep getting better every day."
Through KU's first three games, Goldenberg has handled all of KU's short snaps — field goals and extra points — and filled in for Wirtel on punt snaps for most of the Memphis game and one time last week against Rutgers.
There's no animosity between the two long snappers. Goldenberg said the two specialists are always happy for each other when they do well and, thanks to the way Hyman runs things, have become quite close.
They roomed together throughout camp and continue to do so on road trips. Goldenberg said Hyman's emphasis on teamwork, camaraderie and competition helped both long snappers improve drastically and fostered a we'll-show-them mindset that led to better performance from both players.
"Coach Hyman's the kind of coach that's gonna make you work as hard as possible, but he's also the kind of coach you want to work hard for," Goldenberg said. "He makes you a better football player."
As for as who made him a football player in the first place, that distinction goes to Goldenberg's father, Mark, who coaches high school football and inspired his son to get started in the game many years ago.
"In sixth grade, my dad said, 'You're gonna do long snapping, it might take you a long way,' and look where it did," Goldenberg said. "When I started, I went in the back yard and did it one-handed, and I realized, 'I'm OK at this.' As the years went on, I just kind of kept doing it, and it ended up working out."
Because Goldenberg's father went to KU, the Jayhawks had always been on his radar. And when KU running-backs coach Reggie Mitchell came through town to recruit one of his high school teammates who wound up heading to Notre Dame, the path to Kansas was put in place.
"(Coach Mitchell) said, 'Hey, we could use a long snapper, and you should probably walk on on your own,'" Goldenberg recalled.
From that moment on, he was hooked. Since he had planned to enroll at KU as a student anyway, deciding to try out for the football team was just one more step.
Although Goldenberg arrived at KU used to playing a significantly greater number of snaps each game, he has done nothing but enjoy transformation from full-time lineman to fine-tuned specialist.
"It's different because I used to have a lot more of an impact on the game," he said. "And now it's just a handful of plays a game, and you have to do one certain job and do it well. It's more concentrated but I just want to help the team any way I can, and if that's long snapping on punts or field goals, I'm here to do it."
More like this story on KUsports.com