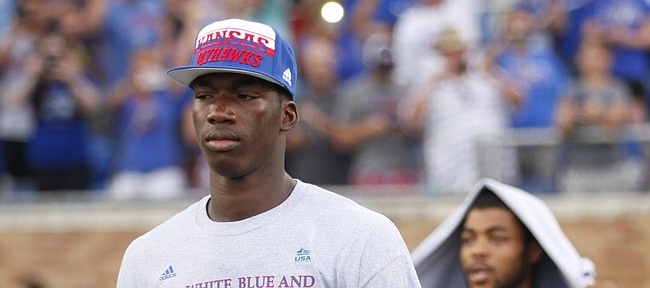 Kansas University basketball coach Bill Self received a letter from the NCAA on Wednesday that provided at least some good news on Cheick Diallo's eligibility situation.
The 6-foot-9 freshman wasn't cleared for participation in games.
But the MVP of the McDonald's and Jordan Brand Classic games was given the OK to practice, which is extremely important for KU and Diallo, since 2015-16 preseason camp opens on Friday.
"He's basically clear to practice until everything is resolved (regarding initial eligibility as decided by NCAA Eligibility Center)," Self told the Journal-World on Wednesday night. "It's a positive that he's able to be out there with the guys but by no means is it that he can compete (in games) yet."
For the past three weeks, Diallo had been held out of team activities. It's because of a rule that prohibits newcomers who have not yet been approved by the NCAA Eligibility Center from participating in team-related activities after a certain amount of time on campus expires.
"It was not us getting it done. That was how the NCAA viewed it, that they thought circumstances of his situation is to allow him to practice until it's resolved because we don't know the exact timetable," Self said of Wednesday's ruling.
Self said, "We don't know," when asked when the Eligibility Center will make its final determination on Diallo's eligibility.
"It doesn't make any difference now. He's practicing," Self said. "I'm totally confident we'll know something before the first game (Nov. 4 exhibition). Hopefully we'll know something in a couple weeks, but there's no guarantee on anything."
Given the NCAA's OK, Diallo indeed practiced under coaches' supervision Wednesday. Eligible players can practice up to two hours a week in the offseason in accordance with NCAA rules.
"Cheick practiced today. He wasn't very good," Self said Wednesday while working the Kansas City Basketball Coaches Association Clinic at Bishop Miege High. "I texted him and said, 'What's wrong with you? You had no energy, nothing, nothing nothing.' He said, 'Coach, but I made it through practice.' I was like, 'Darn, Cheick, we went for 45 minutes; that wasn't exactly a real practice,''' Self added with a laugh. "We'll find out where our guys are (in terms of conditioning and skills) soon."
Of Diallo, Self told the J-W: "He's a talented kid. He's behind the guys from a conditioning standpoint because he hasn't been out there with us the last three weeks. He's got a great upside."
Self said 6-9 freshman Carlton Bragg, "is a talented kid, there's no doubt about that. But he's not the only one doing well. They're all doing fine."
Greene practicing: KU junior Brannen Greene, who had hip surgery in April, "is practicing," Self said. "He's probably only 80 percent, but he's been cleared to practice and just kind of work into it. He's doing most everything that we're doing right now. He's good to go."
New dorm to open in one week: KU's players are scheduled to move into their new apartments, the $12 million McCarthy Hall, a week from today, Self told the Journal-World.
"It's good," Self said of the complex. "There's all kind of new student housing on campus. We're most concerned with McCarthy Hall. There's the brand new facility on Daisy Hill. They renovated scholarship halls. It's pretty good housing right now on our campus."