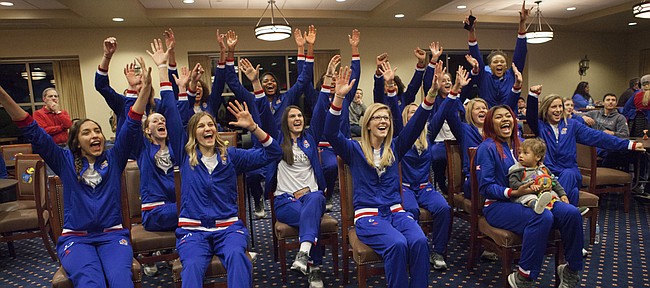 Seated in front of a TV screen in the Naismith Room of Allen Fieldhouse, Kansas University's volleyball players cheered wildly Sunday night when it was revealed on ESPNU that the Jayhawks would be hosting a first-round NCAA Tournament match against Furman at 6:30 p.m. Thursday in cozy Horejsi Center.
The Jayhawks — who feasted on soft tacos and rice before the show and dined on Kelsie Payne's birthday cake after the proceedings — also let out an enthusiastic roar when it was revealed that former Big 12 rival Missouri was a potential second-round foe on Friday in the 1,300-seat arena.
"I know there will be a lot of hype about a potential Kansas-Missouri matchup. That doesn't happen unless we play well on Thursday against a good Furman team," KU coach Ray Bechard said.
Here's what has to happen for a Border War match to be contested at 6:30 p.m. Friday in Horejsi: Mizzou (26-5) must defeat Missouri State (24-10) at 4 p.m. Thursday in Horejsi, then the Jayhawks (26-2) must follow with a victory over Furman (21-8). Winner of the four-team event advances to the Sweet 16 the following week in San Diego.
"I have an old friend that plays for Furman. I'm excited to see her. She's very good," KU sophomore setter Ainise Havili said of Furman sophomore Christen Sikora, who was a teammate of Havili on a Texas Advantage Club team that won the 2013 USAV national title.
"I feel like the whole city will be really pumped if we played Missouri, so that would be really fun, too," Havili added.
Missouri's softball team has defeated KU twice, and the Tigers soccer squad knocked off KU once, all in NCAA tourney action, since the Tigers left the Big 12 in 2012.
"We've got to get figured out how we're going to get past Furman, and they're going to have to figure out how to get past Missouri State," Bechard said. "If that should happen, (it would) be some old Big 12 days. I know they've had an outstanding season. I thought they had an opportunity actually to be a host themselves. They've had a great year. We'll put all our attention into Furman first and see where that takes us to."
Noted sophomore right-side hitter Payne: "I'm super excited for Furman. We're always going to play our best game. The chance to play Missouri is awesome for all of us. I'm from Texas, so I'm not real familiar with the rivalry. I know a lot of my teammates are from Kansas or Missouri so they have a strong connection for it."
The Jayhawks are enthused about playing in Horejsi this postseason.
The NCAA has removed a clause that said host teams had to play in a facility with at least 2,000 seats. With Allen Fieldhouse unavailable, KU lost in the first round to Arkansas State last postseason in Topeka.
"The electricity, the energy, the band ... we have such an advantage playing in Horejsi," junior libero Cassie Wait said. "I couldn't be luckier we have the opportunity to play there."
Notes: KU is the ninth overall seed in the 64-team field. Other Big 12 teams to receive bids: Texas, Iowa State, TCU and Kansas State. ... If KU wins two matches, it would face either Stanford, New Mexico State, Loyola Marymount or Colorado State in the Sweet 16 on Dec. 11 in San Diego. A win there would put KU in the Elite Eight, possibly against overall No. 1 seed USC (30-2). ... Furman's only other NCAA appearance was in 2008, when the Paladins fell to Utah in the first round. Furman, which has won five matches in a row, defeated Chattanooga, 3-0, in the title game of the SoCon tournament. Coach Michelle Young, in her 15th season at Furman, said: "We're thrilled for the opportunity, not only to continue our season, but to play a quality opponent from a great conference. This is the first time for all of these girls to play in the postseason and we're really excited to achieve one of our season goals, which was to play in the NCAA Tournament."