Although the Kansas University football team's loss was at home Saturday, the Jayhawks hoped to snap their long road losing skid during the 2015 season.
Instead, the Jayhawks will take it with them into 2016.
KU's five road losses in 2015 pushed the road losing streak to 38 consecutive games away from home. KU has not won away from Lawrence since knocking off UTEP in 2009.
Kansas' next chance at snapping the streak will come Sept. 17, 2016, when the Jayhawks travel for the return game in a home-and-home series with Memphis.
What's next?
Kansas coach David Beaty talked a lot following Saturday's loss about not having time to cry and sulk over KU's winless season. Instead, he plans to get going on the 2016 season almost immediately.
Photo Gallery
Kansas football vs. Kansas State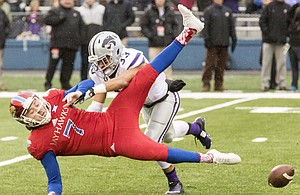 Images from the Sunflower Showdown game between Kansas and Kansas State on Saturday, Nov. 28, 2015 at Memorial Stadium in Lawrence.
"We'll have a little banquet with our seniors (Sunday), and we'll let those guys kind of go off in the right way," the coach said. "And then Monday I'll meet with the team before I hit the road recruiting. And (strength) coach (Je'Ney) Jackson will have them right after that.
"We go to work right now. I'm excited about that."
This and that...
The Jayhawks lost Saturday's opening coin toss but elected to receive the opening kickoff after K-State deferred its choice to the second half... Despite the loss, KU still leads the all-time series with KSU 64-43-5.... Sophomore receiver Bobby Hartzog Jr., recorded the first TD grab of his career, a 26-yard strike from Willis late in the fourth quarter .... Junior safety Fish Smithson, who led Kansas with 111 tackles this season, recorded double-digit tackles (11) for the sixth consecutive game he appeared in. He became the first defensive back to lead Kansas in tackles since Darrell Stuckey in 2009.... Junior safety Bazie Bates IV recorded the first interception of his career and made it three straight games with an interceptions for the KU defense.... Sophomore cornerback Derrick Neal, who earlier this season started as a wide receiver, started at DB for the Jayhawks on Saturday, making him the first KU player to start on both sides of the ball in the same season since Bradley McDougald in 2010.... Temperature at kickoff was 32 degrees, under a wintry mix with winds of 7 mph out of the north.
— See what people were saying about the Sunflower Showdown during KUsports.com's live coverage
---
More news and notes from the 2015 Sunflower Showdown
---
More like this story on KUsports.com