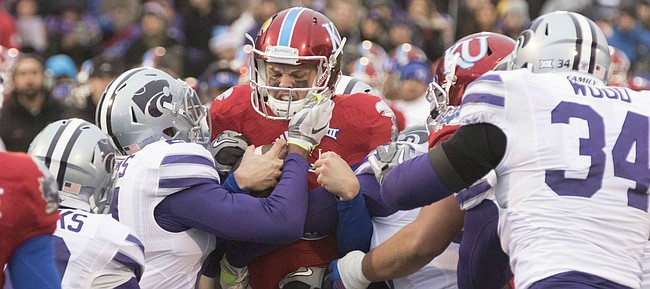 An offensive line takes years, not months, to develop. One wide receiver with near-world-class speed can make such a difference for an offense, but those guys are too obvious for the Baylors and the Oklahomas to miss.
Adding an edge pass rusher to twin with promising Dorance Armstrong would make an immediate difference. Recruiting a pair of shut-down cornerbacks in the same class certainly would speed up the process, but that's no easy assignment.
Barring a phenom-filled recruiting class, a rarity in college football, where players at most positions must learn to crawl and then walk before soaring, it's going to take time for the Kansas University football program to become competitive in games, much less the standings.
"You've got to look at the fact that you've got to get a little better before you can get a lot better," first-year head coach David Beaty said after his team finished an 0-12 season with a 45-14 loss to Kansas State, winner of the past six games of the series.
Photo Gallery
Kansas football vs. Kansas State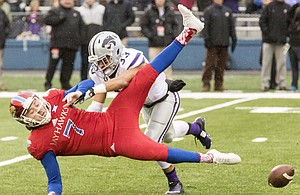 Images from the Sunflower Showdown game between Kansas and Kansas State on Saturday, Nov. 28, 2015 at Memorial Stadium in Lawrence.
Shortcuts don't exist in college football, where unlike in the NFL, the worst don't get to pick first, they generally pick last.
That doesn't mean another 0-12 season awaits Kansas, not with Rhode Island on the schedule for the season-opener. The Rams went 1-10, including losses to Albany, New Hampshire and Towson. Ohio University (8-4), a tough out under Frank Solich, also visits Memorial Stadium in a game that could go either way. KU wraps its 2016 non-conference schedule with a trip to Memphis, which loses its most talented players and coach Justin Fuentes. Not a likely victory, but not impossible. Plus, the Iowa State game is in Lawrence. A two-victory season is the most likely outcome, and three is not a major reach.
Podcast episode
First-year Kansas football coach David Beaty speaks with media members following the Jayhawks' 12th and final loss of the 2015 season, against Kansas State. KU went winless in Beaty's first year, and the coach said he was both embarrassed and motivated by those results.
Slow growth tends to have more staying power, and Beaty will have to show better discipline in avoiding the quick-fix, graduate-transfer approach he relied too heavily on this season. Linebacker Marcquis Roberts was worth losing a scholarship that could be used on a high school recruit because he'll be a two-year starter. Defensive tackle Corey King had just one year of eligibility remaining and he was good enough to start, but not good enough to make an 0-12 team a 1-11 one. Receiver Joshua Stanford, who had gone on a four-game leave of absence at Virginia Tech, proved a bad gamble, catching three passes when he tuned in and suited up.
Most first-year Big 12 football players are afforded the luxury of spending an entire year training vigorously in the weight room without having to worry about preparing for games. Kansas had so many true freshman playing games that they won't resume intense daily weight-room work until Monday. That puts them a little behind, but the in-game lessons they learned more than compensate.
Three true freshmen started on offense Saturday: wide receiver Jeremiah Booker, left guard Larry Hughes and quarterback Ryan Willis. Classmates Steven Sims, a wide receiver, and Clyde McCauley, an offensive tackle, also were regulars. Texas A&M; transfer LaQuivionte Gonzeles, who could be KU's fast receiver, will be eligible for two years. Beaty's staff will need to recruit talent to compete immediately with Ke'aun Kinner, who led the team with 566 rushing yards. Especially since Willis is not a running quarterback, KU will need to upgrade its running back stable, which for the first time in a long time is thin.
Defensively, scoring a major recruit such as Lawrence High's Amani Bledsoe would change the outlook from Day 1 and into future years. More depth also is needed at defensive tackle. Roberts, Dineen and Baker University transfer Keith Loneker Jr. combine to make linebacker one of the team's more solid positions next season. Recruiting ready-to-play-now cornerbacks would enable Tyrone Miller to move to his more natural position of safety.
And then there is the kicking game, which on Saturday was responsible for a fumbled punt and a blocked punt, delivering K-State 14 of its points. KU can't go into yet another season without a field-goal kicker trusted to make 40-plus-yard kicks. Finding one can't be as hard as multiple Kansas coaching staffs have made it look.
Things can only get better from 0-12, but a lot better overnight? That's not how it works.
— See what people were saying about the Sunflower Showdown during KUsports.com's live coverage
---
More news and notes from the 2015 Sunflower Showdown
---