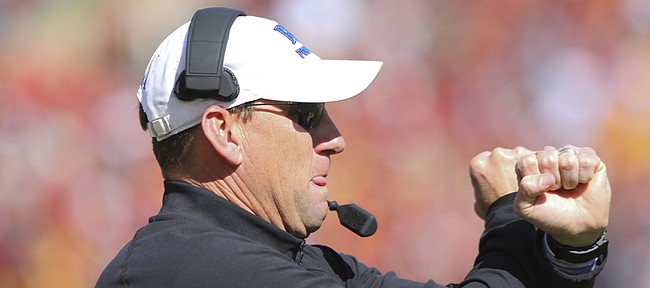 During the middle of a long, challenging season, well before the Kansas University football team's winless streak reached 11 games, the coaches needed to have a talk with their seniors.
It had become clear to everyone in the room just how difficult it might be to get as much as a victory this fall. And, as offensive coordinator Rob Likens describes it, the coaches wanted to make sure the Jayhawks who wouldn't get to reap the future rewards of this year's hard work didn't "let go of the rope."
David Beaty's first-year staff presented KU's seniors with a challenge. Likens said it went something like this: "OK, guys. You know you're not going to go to a bowl. What's gonna be your deal? Are you gonna be guys that quit or guys that are known as a team that did not let go?"
In unison, the seniors rose and said they would not "let go of the rope."
Headed into Saturday's season finale against rival Kansas State at Memorial Stadium (3 p.m., FOX Sports 1), the Jayhawks (0-11 overall, 0-8 Big 12) and their seniors have yet to turn that commitment into a win.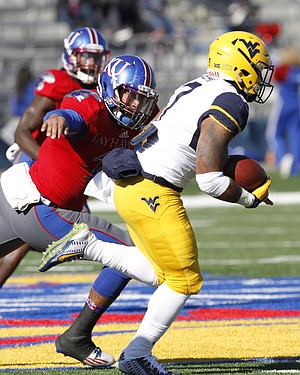 For a fifth-year senior such as defensive end Ben Goodman, the ongoing dim state of the program dictated he play for three different head coaches — Turner Gill, Charlie Weis and Beaty — before his numbered days at KU are through.
Beaty said when he and his staff took over in December last year, they let the seniors know they realized playing for another new regime wasn't ideal for them, and the coaches wanted to make the transition as smooth as possible.
"And if they would trust us and buy into it," Beaty said, "that they would have more fun than they've had playing football. And that the byproduct would be success as you walk down the stage, walk off the stage as a graduate, and we'll never let you be forgotten."
In the beginning phases of the program's massive overhaul, being a senior doesn't even mean you'll play a lot of snaps. Goodman, center Keyon Haughton, wide receiver Tre' Parmalee, running backs Taylor Cox and De'Andre Mann and nose tackle Corey King are the only seniors listed on the first string of KU's depth chart against K-State (4-6, 1-6).
Defensive coordinator Clint Bowen said the seniors have been through a lot, and not just this season.
"Their college careers have been different than the norm, and they've fought through it the whole time," Bowen said, "and still to this day continue to try and rally the young kids and try to let them know what it means to build a foundation for a program."
Likens applauded the way all of KU's senior offensive players approached their final weeks. But senior right tackle Larry Mazyck, beat out for his starting job by freshman Larry Hughes earlier this season, stands out as someone who still speaks up and helps out.
"To have a senior to have not played as much as he thought he was gonna play," Likens shared, "and for him to step up in a leadership role, to me that's remarkable. And it says a lot about what coach Beaty has done here in the culture that these players talk about how they wish they could be here more years and play, even after going 0 and 11 or whatever it is."
Goodman, a captain who will never play in a bowl game for Kansas, said a brotherly environment — which didn't exist before — now characterizes the KU program, noting players are really close with their coaches. The 6-foot-3 senior from Beaumont, Texas, set to start the 36th and final game of his career, isn't too upset he won't be around to play for more successful KU teams.
"But I'm glad I'm part of the foundation for it," Goodman added. "I'll always be a part of it, and coach Beaty said he'll never let this senior class be forgotten. And I trust him on that."