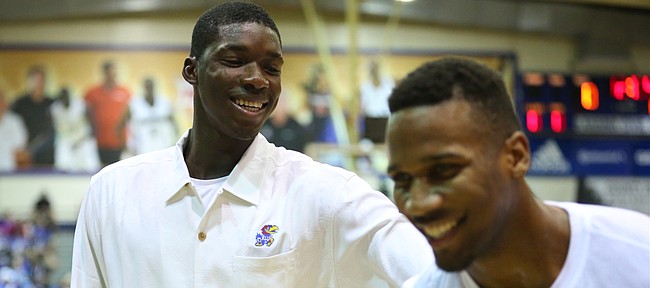 Lahaina, Hawaii — Reflections from Hawaii and the just-completed Maui Invitational ...
Perhaps the only thing that might have made the Maui Invitational title sweeter for Kansas University coach Bill Self would have been Cheick Diallo actually playing and contributing during victories over Chaminade (123-72), UCLA (92-73) and Vanderbilt (70-63).
"Going into the weekend, we thought we would have him all three games based on information presented. We leave here at least moving forward knowing we've got him and will be in good shape in that regard," Self said.
Self went out of his way to thank KU administrators for working on the initial-eligibility case and spending in the neighborhood of $100,000 in trying to gain Diallo's eligibility. KU's hiring of two independent groups to study Diallo's core courses and provide that information to the NCAA proved pivotal. The NCAA had originally deemed Diallo several courses short.
"I'm appreciative of everybody who fought for him," Self said. "If our administration had not fought it would have been a tragedy, not for us but the kid. He would not have been able to participate in college athletics.
"I think there are a lot of places that would not have fought, not because they wouldn't want to. They may not have the financial means to," Self added. "You are talking $100,000 on representation of something that obviously could have been handled in one week without representation if everybody was in partnership (NCAA with KU) and worked together.
"It (cost) would definitely have caused some schools to probably accept the ruling. Fortunately for us, we never thought it (keeping Diallo sidelined) was right. I'm thankful to Sheahon (Zenger, KU athletic director) for fighting and believing and fighting for the kid when we knew positively this was not being read accurately."
— Self informed the Jayhawks that Diallo was eligible for participation in games (starting Dec. 1) at the pregame meal.
"At 12:30 (p.m., Wednesday), I told 'em we won't have to watch him mope around any more for not playing," Self joked. "Everybody clapped and cheered for Cheick. They were happy for him."
— Self said it was nice to win in Maui after the Jayhawks' previous two trips to paradise in the Self era.
"It's a great win," he said. "We finished second last time (2011) and also seventh the time before that (2005). It's the best preseason tournament. To be able to beat UCLA and play as well as we did in the semifinals and beat what I think will be one of the best teams in the SEC and top-15 team year round ... it was a great team win, especially when we didn't play very well (hitting 45.5 percent vs. Vandy and making 12 of 22 free throws)."
— The Jayhawks have bounced back nicely from their 79-73 loss to Michigan State.
"The Michigan State game, we didn't close the game," he said. "We didn't play tough down the stretch. We've been better since that game. Hopefully we used the game as a teaching tool to make us a better team."
— KU's basketball fans traveled in droves to Maui, accounting for quite a home-court advantage in three tourney games in 2,400-seat Lahaina Civic Center.
"We had to have close to 2,000 people, I'd think," Self said. "We had the whole building Monday (for Chaminade game). How in the world our fans got tickets ... they are pretty creative. I know the respective schools don't get that many. It's 5-to-1 or 4-to-1 from a crowd standpoint. There are few schools out there that travel really well, and we are certainly one of them."