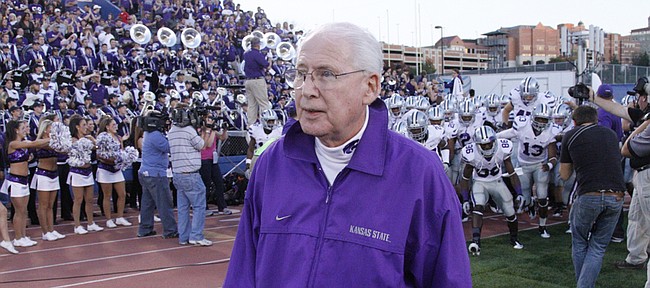 As college announcing tandems go, Gary Bender and Dick Vermeil were tough to beat. When Bender looks back on those days with ABC, his mind often drifts to a moment that with the benefit of history would reveal Vermeil as a prophet.
The announcers had flown in early to do their preparation, part of which was meeting with Iowa's offensive coordinator in 1988. Bender remembers that after he and Vermeil had finished, shut the door and were walking down the hall, the ex-and-future NFL coach turned to him and said something close to, "That man has as good an offensive mind as any coach I've ever met."
That man was Bill Snyder, a year shy of beginning a college football turnaround that stands second to none.
More than a quarter-century later, isn't that really what sets Snyder apart, an ability to arrange 11 young men in such a way as to put bigger, faster athletes somehow at a disadvantage? Isn't his offensive genius really the key?
"You know, that's a great question, because there is so much about him that has been so successful in this game," first-year Kansas coach David Beaty said. "That is absolutely unparalleled. There is no doubt about that. There has always been offensive production under him."
Beaty stopped short of saying Snyder's offensive mind is his greatest advantage.
"I think the thing that doesn't get talked about enough is how smart that football team is," Beaty said. "You very rarely see those guys beat themselves. You've got to beat K-State when you play 'em because of Bill Snyder and his philosophy that he has adopted there. They are a very disciplined unit.
"He is just an attention-to-detail guy, and all of us are still — all of us coaches in this country — are still learning from our predecessors, and he is certainly one of finest examples in all of college football."
Snyder, 76, knows how to keep secrets, including the hidden keys to his success. When an offensive mind as innovative as Vermeil's identifies Snyder as an offensive genius so early, I can't help but think the K-State coach's offensive vision remains his greatest strength.
The keys to Snyder's greatness can be debated, but the extent of it is unquestioned.
"I've it said before," Beaty said, before saying it again, "That job he's done there, I don't know how you can say there has been a better job done. I just don't know how. ... He's one of the best coaches that's ever coached this game."
— Tom Keegan appears on "The Drive," Sunday nights on WIBW-TV.