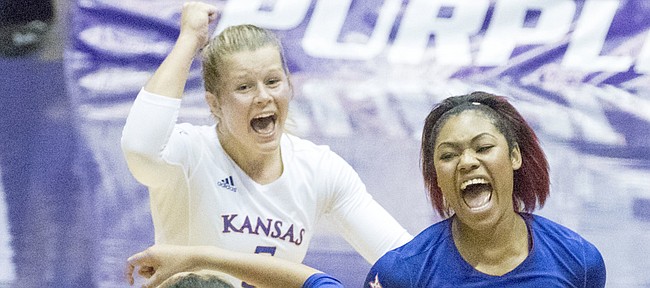 Manhattan — The second edition of the volleyball Sunflower Showdown between Kansas University and Kansas State teams mirrored the first, and that was perfectly fine with the Jayhawks.
Kansas topped K-State (25-22, 25-27, 25-15, 25-16) Wednesday in Ahearn Field House, doing so in similar fashion to the Sept. 23 matchup in Horejsi Center — by winning the first, third and fourth sets.
The Jayhawks (25-2 overall, 13-2 in the Big 12) knew they would have to be dominant on the defensive end, and junior libero Cassie Wait made sure of that by recording 36 of KU's 110 digs.
"We talk about when a team is really good at something, K-State leads the league in digs, how we want to out-do them in whatever that is," Wait said. "So that was really, really, really important to us going in."
Wait was one dig off of tying the Kansas record for digs in a four-set match, and she had plenty of help, with Tiana Dockery (21), Ainise Havili (20), Anna Church (15) and Rigdon (10) each in double figures.
"I don't know when the last time we had 110 digs was, but that number is pretty phenomenal for four sets," Kansas coach Ray Bechard said. "If you can get 15 or 16 digs per set, you're in really good shape."
Kansas locked down defensively to battle back from a 15-12 deficit and win the first set — and fought back nearly to win the second as well.
The Jayhawks trailed for the majority of the second, but stayed within striking distance thanks to their defensive effort. KU grabbed its first lead of the set since 3-2 when a KSU attacking error from Katie Brand put Kansas up, 22-21. Kansas won two of the next three points — highlighted by an acrobatic Madison Rigdon dig that fueled the Jayhawks to double match point at 24-22.
The Wildcats fired right back, though, by winning five of the next six points to even the match at 1.
"After the second set, we all felt like we should have that one," sophomore Kelsie Payne, who led Kansas with 23 kills, said. "We didn't play as well as we could have, so in the third set, we made an effort to play better and do our job together. And that's what happened."
Any hopes the Wildcats had of building momentum into the third was quickly put to rest by the Jayhawks. Kansas closed the third set on a 13-4 run and used a 16-7 surge in the fourth to round out the match.
"We served very tough," Bechard said. "Their setter was not in system or didn't have the option that she needed to have, and Ainise got the ball to the people we needed to."
The victory notched the third 25-win season in the last four years for the Jayhawks. Bechard rewarded his team with a day off today following a morning weights session, but said the Jayhawks will be fully focused for Senior Day at noon Saturday against Texas Tech at Horejsi.
"Tech played last Saturday, and they had two three-point games against Iowa State, so obviously they haven't cashed in," Bechard said. "This will be their last match because they won't make postseason. They'll have some seniors excited about, 'Hey, what a feather in the cap it would be to knock off a ranked team.' We'll be all up for it."
The Jayhawks will know before they take the court Saturday whether they will have a shot at a tie for the Big 12 title. Kansas needs first-place Texas to lose Friday at Oklahoma, and KU must win Saturday over Texas Tech to claim a share of the conference championship with the Longhorns.
More like this story on KUsports.com