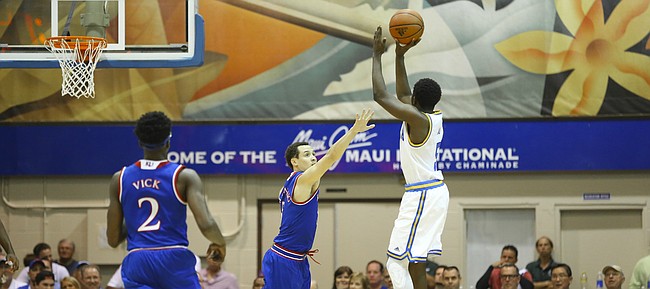 Lahaina, Hawaii — Kansas University senior walk-on guard Evan Manning could have joined his dad at Wake Forest last season with the blessing of Jayhawks coach Bill Self.
"I talked to Evan only a little bit," Self said at the Maui Invitational, of speaking to Evan about possibly transferring so he could be on his papa's team.
Danny moved from Tulsa to Wake, and is in his second season in Winston-Salem.
"I talked to Danny about it. Danny said, 'It was his (Evan's) lifelong dream to play at Kansas,'" Self shared.
Photo Gallery
Kansas basketball v. UCLA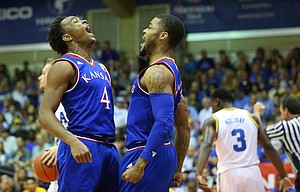 Images from the Jayhawks second-round matchup against UCLA during the Maui Invitational
"I know how close Danny and Julie (Evan's mom) are to Evan and Taylor (daughter). They were fine with him staying at Kansas and playing at KU. I asked Danny, 'Don't you want to take Evan?' He said, 'Yeah I want to take him but he doesn't want to come. He wants to stay here.'
"They handled it beautifully," Self added. "They let Evan make his own decision. Evan loves KU."
Podcast episode
KU coach Bill Self applauds KU's first half in 92-73 win over UCLA in the Maui Invitational semifinals.
Indeed, Evan recently told the Journal-World: "My dad is happy. He is loving what he's doing. He has a great opportunity at Wake Forest. They have great facilities, great everything there. He likes it and is hopeful they are going to have a good season this year.
"He always wants me to come down and see the place. But he knows I love KU. He would never try to pull me away or anything like that."
Make no mistake about Free State High grad Evan's love of KU and Lawrence.
"This is my dream school," Evan told the J-W. "I came to KU. I love it and have loved every minute of it."
Swannie in paradise again: KU graduate Mike Swanson, vice president of communications and broadcasting for the world champion Kansas City Royals, is working his 23rd straight Maui Invitational as a stat man for ESPN.
Odom speaks: Tournament director Dave Odom is former head coach at Wake Forest, which is in this week's Invitational.
"My feelings will remain my own," Odom told the Ocala StarBanner, asked if he was rooting for the Demon Deacons. "I just hope all the teams here have a great week of basketball and a great experience on Maui."
Odom was an assistant to Terry Holland at Virginia when Chaminade beat the No. 1-ranked Cavaliers in 1984.
"People think we didn't play hard that day," Holland told ocala.com. "The players played as hard as they could. They just didn't play very well."
— See what people were saying about KU vs. UCLA during KUsports.com's live coverage
---
---
---
More news and notes from Kansas vs. UCLA
---
More like this story on KUsports.com