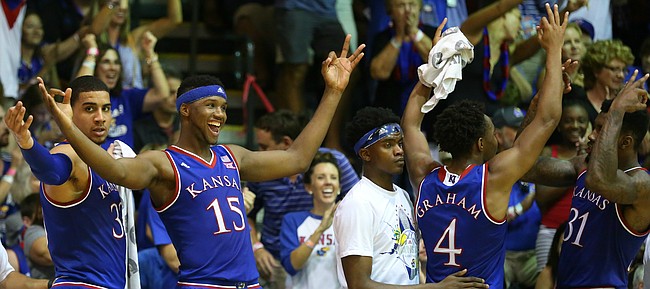 Lahaina, Hawaii — Kansas vs. UCLA in the semifinals of the Maui Invitational has turned out dandy for the Jayhawks the last two trips to paradise.
The (3-1) Jayhawks, who ran the fast break to perfection the first half, cruised to an early-29-point lead behind the 18-point initial-half explosion of Perry Ellis en route to a 92-73 Maui semifinal victory Tuesday in Lahaina Civic Center that puts KU in tonight's 9 p.m. final against (5-0) Vanderbilt.
This was the same basketball blueblood — UCLA — that KU whipped by 16 points in the 2011 Maui semifinals on the way to a runner-up finish to Duke.
Photo Gallery
Kansas basketball v. UCLA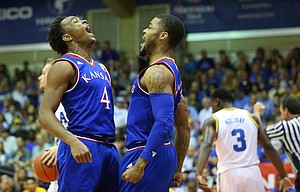 Images from the Jayhawks second-round matchup against UCLA during the Maui Invitational
"I think it's we were playing UCLA," KU coach Bill Self said asked a possible reason for his team surging to 26-9 lead just eight minutes into the game. "We played (Div. II) Chaminade and shot the heck out of it (in 123-72 first-round win Monday), but I felt our guys felt this tournament started today. Not being negative toward Chaminade. We didn't look past them. The whole thing is I think they (Jayhawks) said, 'I can't wait to get a chance to play a team and program as well known as this one.'''
KU hit 57.6 percent of its first half shots (eight of 15 from three) and 54.2 for the game (10 of 23 from three).
Podcast episode
KU coach Bill Self applauds KU's first half in 92-73 win over UCLA in the Maui Invitational semifinals.
"We played great the first half. That's about as well as we can play offensively," Self said. KU led 59-33 at the break.
"We scored 59 and to be candid with you, Svi (Mykhailiuk) didn't shoot the ball well at all. He had like six wide open looks (six points first half, 2-7 shooting; 13 for the game, 5-13 shooting). We're doing a lot of good things. We're sharing it. We're playing fast," Self added.
Self, after five of his players scored nine or more points, acknowledged: "I'm exited. Usually the tendency is you don't guard as hard when you score easy. That's obviously the case. The second half was a H-O-R-S-E contest. We didn't guard 'em all the second half (in getting outscored 40-33). That was, 'just get through the game.' Offensively, we were bad against Michigan State — bad the second half, but other than that we've actually moved the ball pretty well and shot pretty well the majority of the season."
Guards Frank Mason III, Wayne Selden, Jr., and Devonté Graham had 16, 15 and nine points respectively. Mason had seven assists and Graham and Selden three.
"We used to be a station-to-station team," Self said. "We ran our high-low and 2-game. We run those as plays (now) but we are a ball-screen mode team now. We need more guys who can make plays off the bounce. The ball is the hardest thing to guard in college basketball. We used to be a team that scores off the catch. Now we are a team that scores off the bounce a lot more. Having two little guys in there certainly makes us better as long as you can rebound the ball."
Ellis had 24 points to go with six boards as KU out-boarded UCLA, 35-28.
"It's been fun," Ellis said of the first two games in Maui in which KU has lit up the scoreboard. "Go out and move the ball and good things will happen. I think we have a lot of scorers," he added. "People on the team have been around. We know each other's tendencies. It's going to be a great year."
— See what people were saying about KU vs. UCLA during KUsports.com's live coverage
---
---
---
More news and notes from Kansas vs. UCLA
---
More like this story on KUsports.com