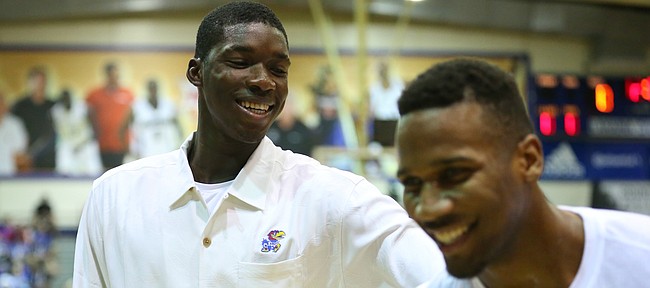 Maybe all of those chants and instances of public posturing from head coach Bill Self finally worked.
The NCAA announced Wednesday afternoon Kansas University freshman big man Cheick Diallo has been cleared to play for the Jayhawks, beginning on Dec. 1, at Allen Fieldhouse against Loyola (Maryland).
According to a KU release, the university provided new information to the NCAA on Nov. 20, including an independent review of Diallo's coursework. Based on both the independent review and the Eligibility Center's existing information, the NCAA approved his initial eligibility waiver.
"Our goal is to have eligibility decisions made prior to the start of a student-athlete's season," Oliver Luck, NCAA executive vice president of regulatory affairs, stated in the release. "However, this was a complicated case involving international transcripts and a high school that remains under review. Additionally, staff considered a complex set of circumstances regarding amateurism."
Based on the amateurism review, the NCAA concluded that Diallo received a limited amount of extra benefits. Therefore, Diallo is not eligible to play for five contests, including the four games Kansas has already played, and its Maui Invitational title game tonight against Vanderbilt.
"I really want to thank the NCAA staff for guiding this process to a fair conclusion in what was a very complicated situation," Kansas athletic Sheahon Zenger said in the release.
After the news broke, Self spoke with reporters on a conference call and addressed what kind of impact Diallo will have for KU, now that he's been cleared to play.
"I really don't know yet," Self said. "He's been on the second team or the scout team for three weeks now and he hasn't been able to practice for a week (per NCAA rules, with KU out of town). I think he makes us better. I think it's gonna be one of those things that the immediate impact he'll have will be limited compared to the longterm impact he'll have once we get into conference play and into February. Because he's raw. He does have a motor, he can block shots, he runs the floor with the best of them. But as far as him understanding our system and being able to react as opposed to think, I think it's gonna take him a little bit of time — just like it would all freshmen. It would've been so nice — they didn't suspend him five games, they suspended him seven because of the two exhibition games, which would have been so nice for him to get 20 minutes a game in these games, so therefore he could've played though his mistakes and figured it out. He'll still have to do that, and I'm hopeful by conference play he'll be a huge impact for us."
— Much more on Diallo, from Lahaina, Hawaii: Freshman Cheick Diallo will play first college game next week
More like this story on KUsports.com